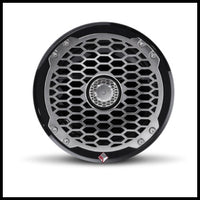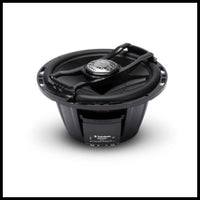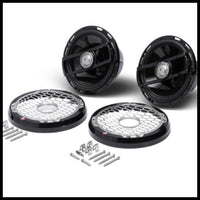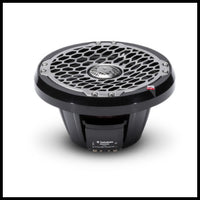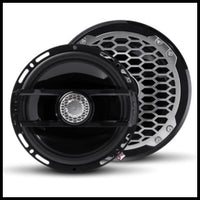 ROCKFORD FOSGATE
ROCKFORD FOSGATE Punch Marine 6.5" Full Range Speakers - Black
The PM2652X is a Punch 6.5" 2-way component system with a coaxially mounted tweeter featuring marine grade weather proofing technologies. Supplied in all black with a UV stable centrex injection molded plastic grille.
The PM2652B 6.5" Element Ready speaker is the perfect choice for your ride whether hitting the lake or the trails. This marine grade speaker features a 1" aluminum dome tweeter designed for high output and sonic clarity and is coated to protect it against the elements and UV radiation, preventing it breaking down over time.

The tweeter is bridge mounted over the midrange cone giving the speaker a component quality sound and allowing for a full cone midrange driver. The midrange is made of a mineral filled, injection molded polypropylene material and features integrated UV inhibitors protecting it from sun exposure.This is attached to the UV stable, Centrex® plastic, injection molded frame assembly by a Thermo-Plastic Elastomer (TPE) surround designed for maximum cone control and excursion. It too has been treated for UV radiation and salt-fog resistance for maximum lifespan.

The cone also attaches to a moisture, fatigue and tear resistant Aramid fiber spider for additional linear control while being driven by our high excursion, matched motor magnetics structure with IDHS which improves power handling. Additionally, the speaker features fully insulated flex lead wires, corrosion resistant gold plated speaker terminals with integrated expansion connections for our PM2T-S tweeter kit and a fully sealed 12dB/ Octave crossover.

The entire system is topped off with an 18 gauge stainless steel and Centrex® plastic grill assembly using stainless steel hardware.
True Marine Grade compliance
UV stable Centrex™ 814 injection molded plastic parts
Corrosion resistant gold plated polarized input terminals
Injection molded mineral filled polypropylene cone body with UV inhibitors
UV and Salt-Fog resistant TPE (Thermo-Plastic Elastomer) surround
1" (25mm) bridge mounted component grade coated aluminum alloy tweeter
Moisture, tear and fatigue resistant Aramid fiber spider
Linear, high excursion matched motor magnetics and suspension design
Fully insulated flex lead wire stitched under spider
Integrated aluminum heat sinking shortening ring (IDHS)
Spare terminal set for optional additional tweeters
Integrated 12dB/octave sealed crossover with integrated protection circuit
2 Year Warranty