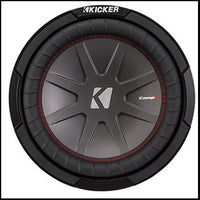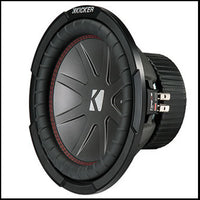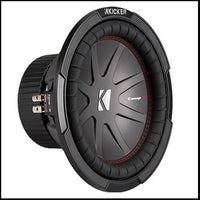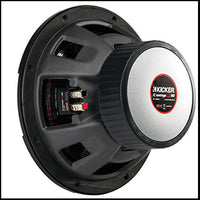 KICKER
KICKER 10" CompR 2 Ohm
The all new CompR® sub is the very model of power and reliability. Play them loud. Play them hard. Play them all day. They love it as much as you do.
10" CompR 2 Ohm
The CompR 10-Inch Subwoofer has a pair of 2Ω voice coils for flexible wiring options. 

Bigger magnets, a thicker cone and an improved suspension system help make the CompR a powerful, reliable bass machine. 

The CompR 10-Inch Subwoofer works best with a sealed or ported enclosure and 400 watts of recommended power. See below for more details.

SIZE [in, cm]:
10, 25
IMPEDANCE [Ohms]:
2 DVC
POWER WATTS [peak/RMS]:
800/400
SENSITIVITY [dB 1w/1m]:
84.6
MOUNTING DEPTH [in, cm]:
5-1/4, 13.3
MOUNTING DIAMETER [in, cm]:
9-1/8, 23.1
MIN SEALED BOX VOL [cu. ft, L]:
0.8, 22.7
MAX SEALED BOX VOL [cu. ft, L]:
1.25, 35.4
MIN VENTED BOX VOL [cu. ft, L]:
1.25, 35.4
MAX VENTED BOX VOL [cu. ft, L]:
1.75, 49.6