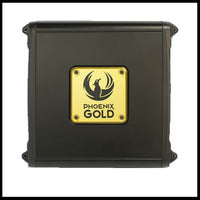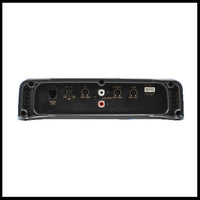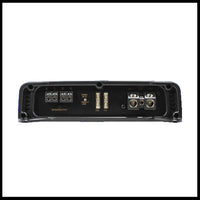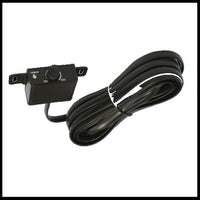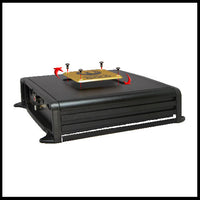 PHOENIX GOLD
PHOENIX GOLD 500 Watt Class D Monoblock Amplifier RX2 500.1
      POWER Standard 1 Channel Mode 
350w x 1 @ 4 Ohm
 500w x 1 @ 2 Ohm
      FREQUENCY RESPONSE    
Sub: 
14Hz – 218Hz 
   INPUT SENSITIVITY  
223mV – 6.2V 
   SELECTABLE BASS EQ 
0dB-6dB-12dB
Is that an Amp in your pocket?
Looks can be deceiving, the RX2 500.1 might be small in stature but not in power. With 500 watts of power it can put some serious bass in your install. RX2 500.1 monoblock amplifier drives clean power with efficiency to your subwoofer and lots of installation options with the small chassis size. When your jam comes on, sometimes it calls for taking your bass up to the next level; and with RX2 500.1's bass knob you can. Installed near the driver, simply turn it up and enjoy.
RX2 series amplifiers are the reference for style and value in any installation. Built with the legendary Phoenix Gold reliability, they feature heavy duty heatsinks, robust unregulated power supplies, and oversized direct input power and speaker terminals. They also sound sweet thanks to the audiophile-grade output transistors. We made upgrading your stock system easy by allowing high level inputs, so you can keep that hard to replace radio, and still upgrade the sound. RX2-series amplifiers are ready to impress with their effortless ability to provide power and clarity while keeping the chassis at a convenient size for any installation. The devil is in the details, so it just made sense that we allow the PG name plate to be removed and turned to match the orientation you might need for your install because we know you're going to want show off your system and make all your friends jealous.
FEATURES:
Class-D Topology

Small Footprint Chassis Design

Robust Unregulated Power Supplies

Rotatable Badging for installation flexibility

High level Inputs for Easy OEM Integration

Remote Bass Controller Included

Audio Precision® Quality Control Verification
      POWER Standard 1 Channel Mode 
350w x 1 @ 4 Ohm
 500w x 1 @ 2 Ohm
      FREQUENCY RESPONSE    
Sub: 
14Hz – 218Hz 
   INPUT SENSITIVITY  
223mV – 6.2V 
   SELECTABLE BASS EQ 
0dB-6dB-12dB