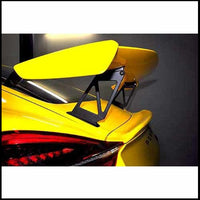 C3 CARBON
APR Porsche Cayman GT4 Wing Extension Kit
APR PERFORMANCE FACTORY WING EXTENSION FOR THE CAYMAN GT4
New from APR Performance, the Wing Extension Kit raises the factory rear wing of the Porsche Cayman GT4 by 3.5 inches, putting the wing into cleaner air flow and giving you better rear visibility. The APR risers also allow for more adjustment of the angle-of-attack of the rear wing, allowing you more flexibility in dialing in/out rear downforce for different tracks.
The satin black powder coated aluminum risers fit perfectly into the existing mounting holes on the GT4 for an absolutely factory appearance. All necessary mounting hardware is included.
With the optional Carbon Fiber Gurney flap, this kit greatly improves the functionality and tunability of the GT4's rear aero.