IN-STORE PURCHASE ONLY
PARADIGM
PARADIGM E2i


e2i Specifications
| | |
| --- | --- |
| Design | In-Ear Headphones with Built-In Microphone & Apple Approved Remote that are voiced matched to Paradigm's high-end Reference Collection. |
| Frequency Response   On-Axis | 10 Hz — 19kHz |
| High Frequency Driver | 8-mm super-neodymium |
| Sensitivity   Room / Anechoic | 104 dB / |
| Components | Built-in microphone with smart phone functionality. Includes small, medium and large ear tips. |
| Finishes | Black |
In-Ear Headphones with Built-In Microphone & Apple Approved Remote
Our first speakers came out in 1982 and fans still scour the Web to buy used versions of those originals. That should tell you something about the quality of our speakers. Paradigm SHIFT™ products are designed for audio on the go. Today, people listen to audio through portable devices. But what about the quality of that audio? Despite what many brands would have you believe, at Paradigm we believe audio should sound as good as it looks!

You're In Control
Paradigm's E2i in-ear headphones were designed to deliver the full audio spectrum with unbelievable clarity and perfect tonal balance with deep bass performance. Built in to the E2i is a microphone for making calls and an Apple approved phone remote with volume control. The combination of a thicker cord in a thermoplastic elastomer not only delivers greater flexibility, it also resists tangling. The new 90-degree right angle is a feature customers have asked us for — it offers added flexibility, particularly when the earbud's 3.5-mm connector is not directly inline with the device plugged in.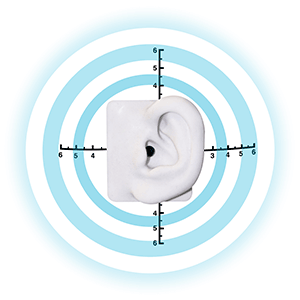 Angie, our Bruel & Kjaer Head and Torso simulator allows us to develop headphones that deliver the full audio spectrum to the ear drum with unbelievable clarity and perfect tonal balance.
The Design of Our In-Ear Headphones
Paradigm's unique understanding of what makes a speaker sound magical in a listening room is applied to the design of our in-ear headphones. Unlike other brands, we used sophisticated measurement tools and proprietary algorithms while accounting for the psycho-acoustic effects of the ear structure in developing our design. This allowed us to faithfully reproduce the performance of Paradigm's freestanding loudspeakers in an in-ear headphone.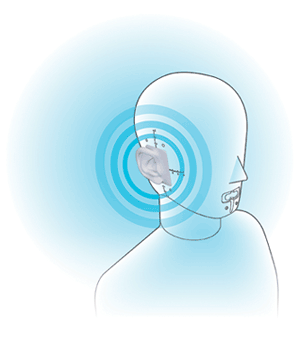 Angie, our Head and Torso Simulator, was the middle man (okay, middle woman) in our quest to critically tune each earbud to sound like our loudspeaker lines. We put her in the anechoic chamber with a microphone in each ear and a Paradigm speaker in the chamber. Then we started to measure. We measured sound pressure levels, the speaker's frequency response, and total sound power (the actual summed output that is heard). We looked for any coloration or distortion at various power levels, all of it according to what Angie was actually hearing. Then we took the results and began to design. And while everyone's ears are different, the one thing we knew with absolute surety from our extensive research with Canada's National Research Council is that all listeners clearly favor three things: a flat midrange, a smooth total energy response and low distortion. Through Angie's ears we were able to so precisely tune the headphones to our speakers that listening to an E2i is like listening to music through our high-end Reference Collection.
In-Ear Headphones Can Sound As Good as High-End Speakers
Every audio experience (music, movies, video gaming, etc.) is better with better sound. If you're not sure what we mean by "better" sound all you have to do is listen to your current earbuds or headphones, then plug in a pair of Paradigm headphones. The difference is audible. Paradigm SHIFT series products are the result of our thirty years of sound research and product development. We've taken the expertise used to produce hundreds of award-winning Paradigm loudspeakers and adapted it for music on the go. Unlike any other headphone brand on the market, Paradigm sound quality is the result of pure scientific data and extensive critical listening on the part of Paradigm. Each one is tuned to sound like our award-winning high-end loudspeakers. What you hear when you plug in with Paradigm SHIFT series is exactly what you should hear ... a faithful reproduction of the original source, no different than if you were listening to a Paradigm loudspeaker. If you're listening to a live concert recording, your SHIFT headphones will make it feel "live." When you turn up the volume there will be no loss in sound quality. And because our headphones have superb noise isolation, even at low volumes you will still hear the full spectrum of sound clearly.