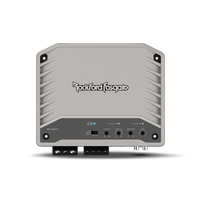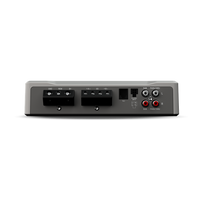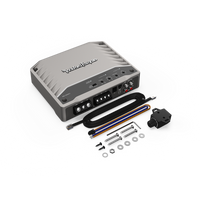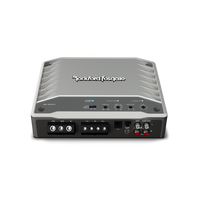 ROCKFORD FOSGATE
M2-500X1 500 Watt Mono Element Ready™ Amplifier
Designed to withstand the elements, the M2-500X1 Element Ready™ amplifier is a 500 watt, class-D model, capable of operating at 4Ω or 2Ω mono. This amplifier is extremely efficient because of its class D technology which reduces demand on the electrical system. The amp also features C.L.E.A.N. circuitry to help you adjust your gain settings, a P.O.W.E.R. Supply that generates more power as voltage increases, and integrated Punch EQ that corrects for acoustic deficiencies while delivering up to 3X the bass. For subwoofers, a variable infrasonic filter and remote level control allows you to tune the bass for the desired level for the music.
Serious marine sound, made simple. The M5 amplifiers feature the next level of Element Ready™ design from Rockford Fosgate that's built as rugged as the outdoor environment it's used in.
Features & Benefits:
Element Ready™: Purpose Built for the Marine Environment, Rockford's Element Ready™ products are built to stand up to Water, Salt, and UV, making sure your amplifiers stand the test of time.
C.L.E.A.N.: Our Patented circuit with input and output clip indicators help match the source unit to the amplifier, which makes for easy set-up and optimizes musical output.
P.O.W.E.R. Supply: The unique P.O.W.E.R. supply continues to generate more than rated power as the voltage increases, giving you the output, you demand.
SPECIFICATIONS:
Total Power
(Sum of Rated Power)
500 Watts
Rated Power
(RMS Continuous Power)
300 Watts x 1 @ 4Ω
500 Watts x 1 @ 2Ω
Dynamic Power
(PVC/PowerCube®)
350 Watts x 1 @ 4Ω
590 Watts x 1 @ 2Ω
Frequency Response
20 Hz - 250 Hz
Input Sensitivity
Low-Level: 150 mV - 4 V
High-Level: 450 mV - 12 V
Circuit Topology Class
Class D
Total Harmonic Distortion
(THD+Noise)
4Ω: <1.0%
2Ω: <1.0%
Signal Input
Low-Level: 2 RCA
High-Level: 4-Pin Molex
Signal Output
Low-Level: 2 RCA
(Pass-Thru active with RCA or Hi-Level input)
Tone Controls
0 to +18 dB @ 45 Hz
Crossover Controls
Low-Pass:
50 Hz - 250 Hz @ 12dB/Octave Butterworth
Infrasonic:
15 Hz - 40 Hz @ 12dB/Octave Butterworth