IN-STORE PURCHASE ONLY
PARADIGM
PARADIGM Soundscape


Soundscape Specifications
Design

Bass reflex design. 7 drivers each powered by a separate amplifier channel. 3 isolated physical channels: Left channel and right channel each feature a 2-way, 2-driver complement. Center channel features 3 drivers. DSP Digital Signal Processing. Paradigm Virtual Surround.

Crossover

Digital 3rd-order electro-acoustic at 2 kHz; digital second order at 80 Hz.

Amplifier


7 x 50 watts Peak Power / 7 x 25-watts RMS Sustained

Frequency Response   On-Axis

±2 dB 40 Hz – 20 kHz

High Frequency Driver

3 x 25-mm (1") S-PAL™ pure-aluminum dome tweeters.

Mid/Bass Frequency Driver

4 x 122-mm (4") composite cones, 25-mm (1") voice coils.

Low Frequency Extension

30 Hz (DIN*)
* DIN 45 500. Indicates - 3 dB in a typical listening room.

Sensitivity   Room / Anechoic

88 dB / 85 dB @ 0.1 Vrms input / Volume 88

Finishes

Gloss Black

Inputs

2 x digital optical; 1 x digital coaxial; 1 x analog RCA; 1 x SubOut for wired subwoofer connection; 1 x wireless SubOut; 1 x Bluetooth.

Weight

20 lbs. (9.1 kg)

Dimensions   HxWxD
Including 2 preattached feet

5.5" × 42" × 5"
(14.0cm × 106.7cm × 12.7cm)

Accessories
Included

Included:
1 x Wireless subwoofer receiver with DC adaptor;
1 x remote control with 2 'AAA' batteries;
2 x factory preattached feet;
1 x wall-mounting bracket with screws;
1 x power cord;
1 x RCA shielded 1.8-m (6') cable;
1 x optical cable.
5.1 Powered Soundbar

Bluetooth with aptX coding
allows high-quality audio streaming from any room in the house.
Soundscape: Landscaping with sound. Ideal for flat panels 50"and up. 7 high-performance drivers deliver an engaging surround-sound experience. 7 x 50 watts Peak Power. Digital optical & analog stereo inputs for direct hook-up of Blu-ray, DVD/CD player, gaming console, satellite receiver or other external source. DSP-based amplifier design.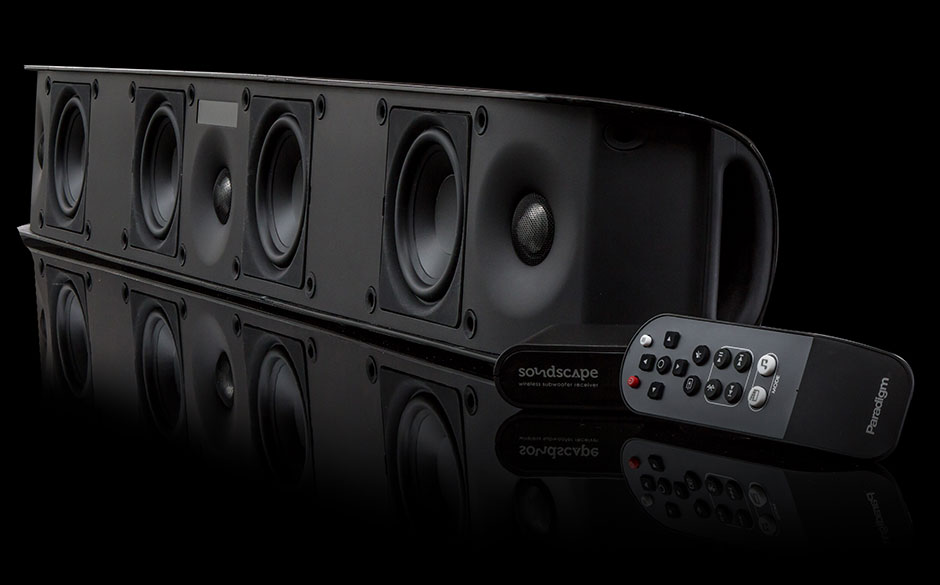 What makes Soundscape a standout product?
Paradigm award-winning sound quality! It's a giant sonic step above anything available at the big box stores. Paradigm engineering delivers four beautifully designed 4" composite cone woofers that serve up deliciously deep bass. Our own Digital Signal Processing platform makes sure every note of that bass is clean and musical. Tailor the listening experience with switchable EQ modes to suit placement on a wall or flat surface. Action packed movies or multichannel music? With Dolby Digital encoded material, turn on the Dedicated Movie Mode with Paradigm Virtual Surround for a breathtaking surround experience (full details on this later). Switch to Music Mode for 2-channel listening. Bluetooth capability with aptX coding for high quality audio streaming. Charge Bluetooth devices from another room while continuing playback in the same room. A subwoofer's not necessary, but one can be added (sold separately), a transmitter is built in and a wireless sub receiver is included.
Who is Soundscape Designed For?
Anyone who wants top quality sound in a space-saving format.

What's in the box?
Includes a soundbar with removable feet and wall-mounting bracket, remote with 2 'AAA' batteries, AC power cord, digital optical cable and stereo RCA analog cable, wireless subwoofer receiver.
Closeup on Features!
Sound quality! Video is important but it's the audio that brings music and movies to life!
Bass ... shocking in its high output and deep extension!
Fast, non-technical setup.
Perfect for small living spaces where traditional speaker setups are too large. Also ideal in secondary areas ... den, bedroom, home office, etc.
Operates via a full-function remote or onboard top-panel interface controlling Power, Volume and syncing of an external subwoofer.
IR Learning. Most cable or satellite TV's and universal remotes can learn Soundscape functionality. Discrete HEX codes for custom integration. System can be configured to accept two separate remotes.
Inputs: 2 x digital optical; 1 x digital coaxial; 1 analog RCA; 1 x SubOut for wired subwoofer connection; 1 x wireless SubOut; 1 x Bluetooth. Connections can be made from Soundscape or the TV.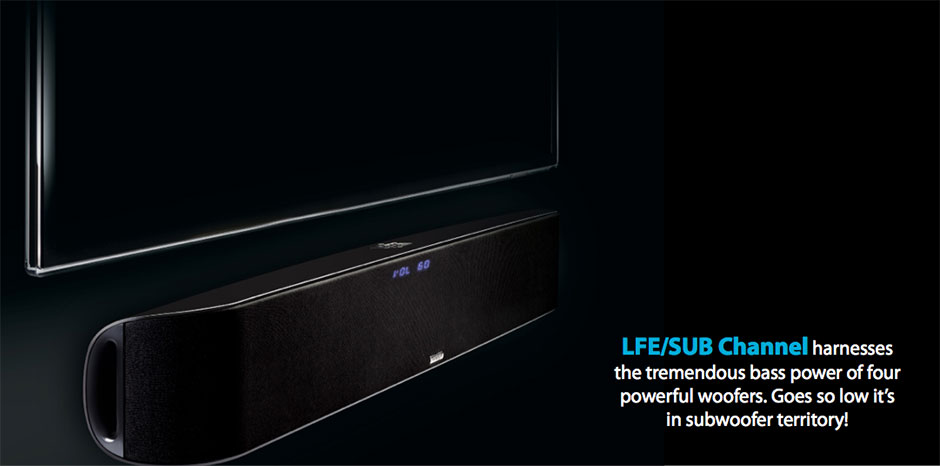 Behind the scenes?
Special Soundscape features and why they're important
The three full-range driver complements are physically separated into separate channels within the cabinet. This ensures sound from all channels travels widely throughout the room. A nice change from typical soundbars on the market, stereo imaging is immaculate. Superb reproduction of the original live event or original recording session. You'll find yourself dodging and ducking as special effects and surround sound flies around the room ... a true edge-of-the-seat movie experience.

4" high-power bass/midrange woofers: Our composite cone woofers deliver a superb low-mass, high-stiffness ratio. What's the benefit? Excellent sound reproduction in the higher midrange and fast transient response (explosions, special effects are heard and felt!).
3 x 1" high-power ferro-fluid-cooled dome tweeters: Ah! The purity of pure-aluminum dome tweeters. A rarity at this price. What's the benefit? Ferro-fluid cooling the voice coil radically improves power handling so that reaching the high notes is never a problem.
Proprietary Class-D Amplification with Digital Signal Processing (DSP)
What's the benefit of Digital Signal Processing in already-high class of amplification? Our proprietary DSP platform uses sophisticated algorithms to shape frequency response so that even when Soundscape is playing loud, bass remains clear and musical. DSP is also the processing power behind spacious Paradigm Virtual Surround Sound (see below). Room-filling spaciousness or deep bass? In most soundbar designs, it's a trade-off. Not here! Our DSP-based algorithms deliver the best of both worlds – deep musical bass and spacious, room-filling sound. In a soundbar, it's rare to have both!
Paradigm Virtual Surround Explained
In systems without dedicated surround or rear speakers, much of the wonder and magic of surround sound is lost since there are no physical speakers to deliver it. Carefully mixed by recording engineers in the studio, this precious information sits neglected and unheard in front left and right speakers. Paradigm Virtual Surround. developed by Paradigm engineers, ensures that none of that surround magic is lost.
Humans have the ability to hear sound in three dimensions. Through sophisticated mathematical algorithms that capitalize on this ability, Paradigm Virtual Surround processing gathers all the neglected surround sound information in a central sweet spot, then reflows it back into front left and right channels, sending it out into the room in a way that creates the auditory illusion of sound swirling around us. An auditory 'illusion' perhaps, but to our ears this experience is very very real, lifting the Soundscape experience to a realm that is spacious, authentic, immersive and magically engaging.