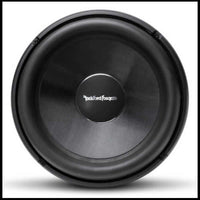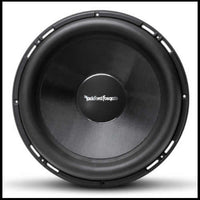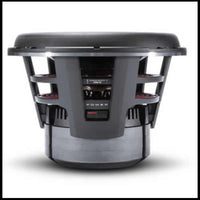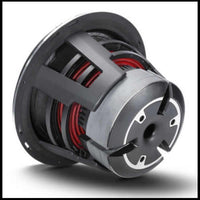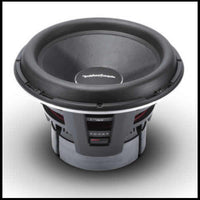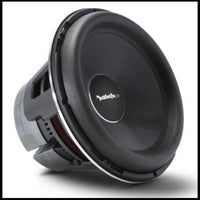 ROCKFORD FOSGATE
ROCKFORD FOSGATEPower 16" T2 Single 1-Ohm Subwoofer
The Power T2S1-16 subwoofer features 16-inches of effective radiating cone area and a single 1-ohm voice coil for ease of wiring.
This subwoofer is not just another made with off-the-shelf parts, we wanted something better, and we knew our fanatics demand this as well. Since the original Power T2 subwoofer was designed by one of the leading loudspeaker engineers in the world, there were some lofty goals that had to be reached. Work was done from the ground-up to out-perform it's previous family members, while incorporating valuable feedback from our great network of Rockford Fosgate dealers. They wanted it bigger and badder with dual everything, and we feel that goal was crushed.
Why 16-inches?  Well, this is a combination of the cone and surround assembly described as the "total effective radiating area".  Since this model is so massive, we incorporated dual spiders for exceptional travel of the cone assembly. The motor structure operates very linear for exceptional sonic quality and the IDHS heat-sink gives the subwoofer impressive power handling capacity. Top it off with proprietary input terminals for large gauge cables to efficiently deliver the needed voltage, and this subwoofer is ready to drop the doom!
WARNING: Use caution when installing this subwoofer. It's heavier than Atlas holding a globe on his shoulders.
Three layer glass fiber/Aramid honeycomb/Glass fiber cone
Aluminum dustcap
Injection molded foam surround with VAST™
Proprietary surround mechanical clamping ring
Dual Nomex progressive spiders with integrated lead wires
Aluminum diecast frame with integrated heat sink fins
Custom push spring insulated 8 AWG terminals
Single layer edge wound aluminum 4" voice coil
Detachable die cast aluminum trim ring
Vented pole piece
Triple stack segmented ferrite motor structure
Integrated aluminum heat sinking shorting ring (IDHS)
1 Year Warranty
Klippel Verified
Klippel is a speaker certification program allowing us to deliver the best possible subwoofers.
Inductive Damping Heat Sink
Secures directly to the top of magnet structure to improve system efficiency by reducing both distortion and back EMF (Electo-Magnetic force). Also radiates heat to reduce voice coil temperature.
CEA-2031
Power handling on Rockford Fosgate speakers conform to CEA-2031 industry standards.
VAST Surround - Subs
The Vertical Attach Surround Technique significantly increases a subwoofer's effective radiating cone area up to 25%.
FlexFit Basket - Subwoofer
The slot mounted frame pattern allows fine-tuning of the subwoofer's mounting position.
Anodized Aluminum Voice Coil Former
Rockford Fosgate subwoofers use anodized aluminum voice coil formers that provide superior heat dissipation (up to 100° at full power levels). Unlike traditional plastic substitutions, aluminum acts like a heat-sink to quickly dissipate thermal build-up on the voice coil. This keeps subwoofers cool during high SPL conditions.
Stitched Tinsel Leads
Improved reliability and performance by reducing fatigue and possible shorting.
Power Handling
(Watts RMS):
2500 Watts RMS
5000 Watts Max
Voice Coil Diameter: 3.96" (100 mm)
Speaker Connector: 8 AWG slot loaded
Cutout Diameter: 15.04 in. (382 mm)
Woofer Displacement: 0.289 cu. ft. (8.2 Liters)
Magnet Weight
(oz):
529 oz. (15 Kg)
Mounting Depth: 10.47 in. (266 mm)
Shipping Weight: 100.80 Lbs. (45.7 Kg.)
CEA-2031 Compliant
Voice Coil Type: Single Voice Coil
Sealed Box Volume
(Vb): 2.4 cu. ft. (67.9 Liters)
Vented Box Volume
(Vb): 5.5 cu. ft. (155 Liters)