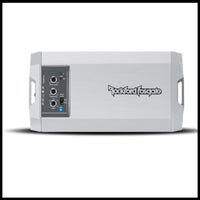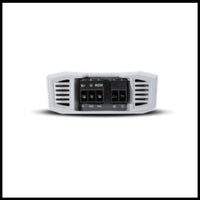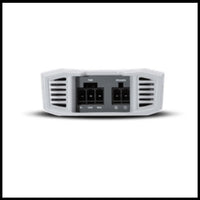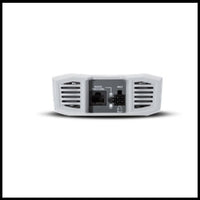 ROCKFORD FOSGATE
ROCKFORD FOSGATE Power Marine 500 Watt Class-BR Mono Amplifier
The TM500X1br is a 500 Watt mono amplifier with boosted rail Class-br technology and a conformal coated pc board designed for motorsport and marine applications.
The Power TM500X1br 500 Watt mono ultra-compact amplifier is built on Rockford Fosgate's patented Boosted Rail technology that sips current while retaining a storage reserve for extended bursts of power. Flexible vehicle integration enabled through low-level and high-level inputs with auto turn-on. Top mounted controls allow easy access to built-in crossover and C.L.E.A.N. input/output clip detection circuits. The 3-stage thermal lock extrusion with dual fan forced induction keeps everything cool while real-time thermal/protection schemes safeguard the amplifier.
Rockford Fosgate proprietary Boosted Rail technology
Differential inputs with high level auto turn-on feature
Upgraded RCA connectors
8 AWG Power/Ground connector. 10 AWG speaker connector
Remote-Out feature when using high level inputs
2013 PLC2 remote ready
C.L.E.A.N. input/output clip detection and indicator LEDs
Top mounted controls
Dual fan cooled
Real time thermal sensing with Rollback technology
Dual extruded heat sinks
Discrete surface mount technology
Marine grade two part epoxy coating on circuit boards
2 Year Warranty
CE Compliant
This product fulfills all essential safety and environmental requirements as defined in the European Directives (768/2008 ..
CEA-2006 Compliant
Power ratings on Rockford Fosgate amplifiers conform to CEA-2006 industry standards. These guidelines mean your
Class BR
Stores energy and dynamically boosts rail voltage to create power on demand.
C.L.E.A.N. Set-Up
Patented circuit with in/out clip LEDs to help match a source to amp and optimize output.
Element Ready™ - Amps
These amplifiers are protected against Dust, UV, Corrosion, and feature Stainless hardware.
3-Stage Airflow
3-stage airflow method effectively exhausts heat and ensures your amplifier runs cooler for optimum performance.
DSM
DSM utilize 1% tight-tolerances improving efficiency of the circuit, decreases cross-talk from other discrete components and ...
Engineered In The USA
These Avatars are a personal signature from the Rockford Fosgate team member(s) who designed and engineered ...
CEA-2006 Compliant
CEA-2006 Power Rating
175W x 1 @ 4Ω
≤1.0% THD+N
Remote Controls
Optional PLC2 provides Punch Level Control
Visual Indicators
Power: Blue LED
Protect: Red LED
Input Clip: Red LED3
Output Clip: Blue/Violet/Red LED1,2,3

LED Color Legend:
1BLUE: <0.5% THD
2VIOLET: 1% THD
3RED: 10%+ THD
Power Input Connector
Detachable Compression Terminal
Speaker Wire Gauge
10 AWG
Speaker Output Connector
Detachable Compression Terminal
Operating Voltage
9 - 16 VDC
Recommended Fuse
(not included)
60 A
Average Current Draw (13.8V Music)
30 A
Max. Current Draw (13.8V Sinewave)
60 A
Suggested Alternator
75 A
Dimensional Diagram
Dimensions (H x W x D)
1.6 x 4.3 x 8.3 (in.)
4.1 x 10.8 x 21.1 (cm)
Shipping Weight
3.1 Lbs. (1.4 Kg.)
Number of Channels
1
Total Power
(Sum of Rated Power)
500 Watts
Rated Power
(RMS Continuous Power)
175 Watts x 1 @ 4-Ohm
300 Watts x 1 @ 2-Ohm
500 Watts x 1 @ 1-Ohm
Dynamic Power
(PVC/PowerCube®)
201 Watts x 1 @ 4-Ohm
342 Watts x 1 @ 2-Ohm
540 Watts x 1 @ 1-Ohm
Frequency Response
20Hz - 220Hz +/-1dB
Input Sensitivity
150 mV to 12 V
Circuit Topology Class
Class BR
Efficiency (average)
>75%
Total Harmonic Distortion (THD+Noise)
4-Ohm: <1.0%
2-Ohm: <1.0%
1-Ohm: <1.0% above 35 Hz
Signal Input
High/Low Level Input: 4-Pin harness
Tone Controls
Bass: 0 to +18 dB @ 45 Hz
Crossover Controls
Low-Pass: 50Hz - 250Hz @ 12dB/Octave Butterworth
All-Pass: No