IN-STORE PURCHASE ONLY
PARADIGM
PARADIGM PW LINK


PW LINK Specifications
Design

Premium Wireless Preamplifier

Room Correction

Anthem Room Correction - ARC™, with included calibrated microphone

Finishes

Black

Inputs

12 VDC, Analog RCA L/R, Digital Optical, Ethernet 10/100, USB Firmware Update

Outputs

Trigger, Analog RCA L/R, Digital Optical

Weight

2.2 lbs. (1 kg)

Dimensions   HxWxD


3.125" × 5.75" × 8.625"
(7.9cm × 14.6cm × 21.9cm)

Wireless Receiver

2.4 GHz/5 GHz, 802.11 g/n
Premium Wireless LINK
 


2-Channel Pre-Amplifier

Stream lossless audio wirelessly over standard wireless networks to any existing amplifier/speaker system.

Download: ARC-2 Software
Inputs: 12 VDC, Analog RCA L/R, Digital Optical, Ethernet 10/100, USB Firmware Update
Outputs: Trigger, Analog RCA L/R, Digital Optical
Anthem Room Correction - ARC™, with included calibrated digital microphone.
Dimensions: 3-1/8" H × 5-3/4" W × 8-5/8" D
Stream Wireless Music To Your Existing Amplifier or Powered Speakers
Paradigm's Premium Wireless LINK, designed and engineered by Anthem Electronics, turns any existing pair of speakers - wireless! Just connect the PW LINK to your home router and amplifier and expand your system beyond wired, to wireless. Streaming audio over your home's Wi-Fi network gives you instant access to an infinite personal playlist, app-controlled convenience and wireless speaker flexibility.
Make the decision to stream audio using a name you know and trust for high performance sound: Paradigm.
Paradigm's Premium Wireless Series delivers more dynamicstreaming Wi-Fi audio. It accomplishes this with advanced engineering and high-quality materials, as well as the most innovative streaming technology available. The difference is clearly audible, with a wider dynamic range, crisp details and bigger bass response. The Premium Wireless Series achieves surprisingly bold wireless sound reproduction.
Stream Your Analog Devices
Do you have a turntable or other analog device that you want to play throughout your entire house? PW LINK includes rebroadcasting, allowing you to take any analog source and stream it wirelessly to other Play-Fi devices in your network. Simply connect your analog device to the INPUT of the PW LINK, open the DTS Play-Fi app to select "Line In" and begin streaming to your other devices, it's that easy!

Add Anthem Room Correction (ARC™) To Your Existing System
If you've dreamed about adding the world's best room correction software, ARC, to an existing amplifier / speaker system, now you can with the PW LINK!
Paradigm's Premium Wireless Series products all feature exclusive Anthem Room Correction (ARC™) Technology. ARC uses an exclusive Calibration Microphone and advanced DSP algorithms to quickly and easily optimize speaker performance in any space. In just a few easy steps the microphone measures sound output, compares it to scientifically optimal response curves, and instantly tunes your wireless speaker's output for perfect sound. You'll actually hear the difference Anthem Room Correction makes.

Premium Wireless products also now support ARC Mobile, making it even easier to tune your speakers using an iOS device. Download ARC Mobile now.
Partnered with the leader in Wi-Fi streaming.
In designing their wireless audio streaming system, Paradigm audio engineers aspired to achieve the level of performance they demand in a traditional loudspeaker. So it was only natural to partner with DTS Play-Fi technology, the leader in multi-room wireless streaming. DTS Play-Fi Wi-Fi streaming technology supports a host of high quality file formats and delivers better-than-CD-quality sound (high-resolution up to 24-bit/192kHz).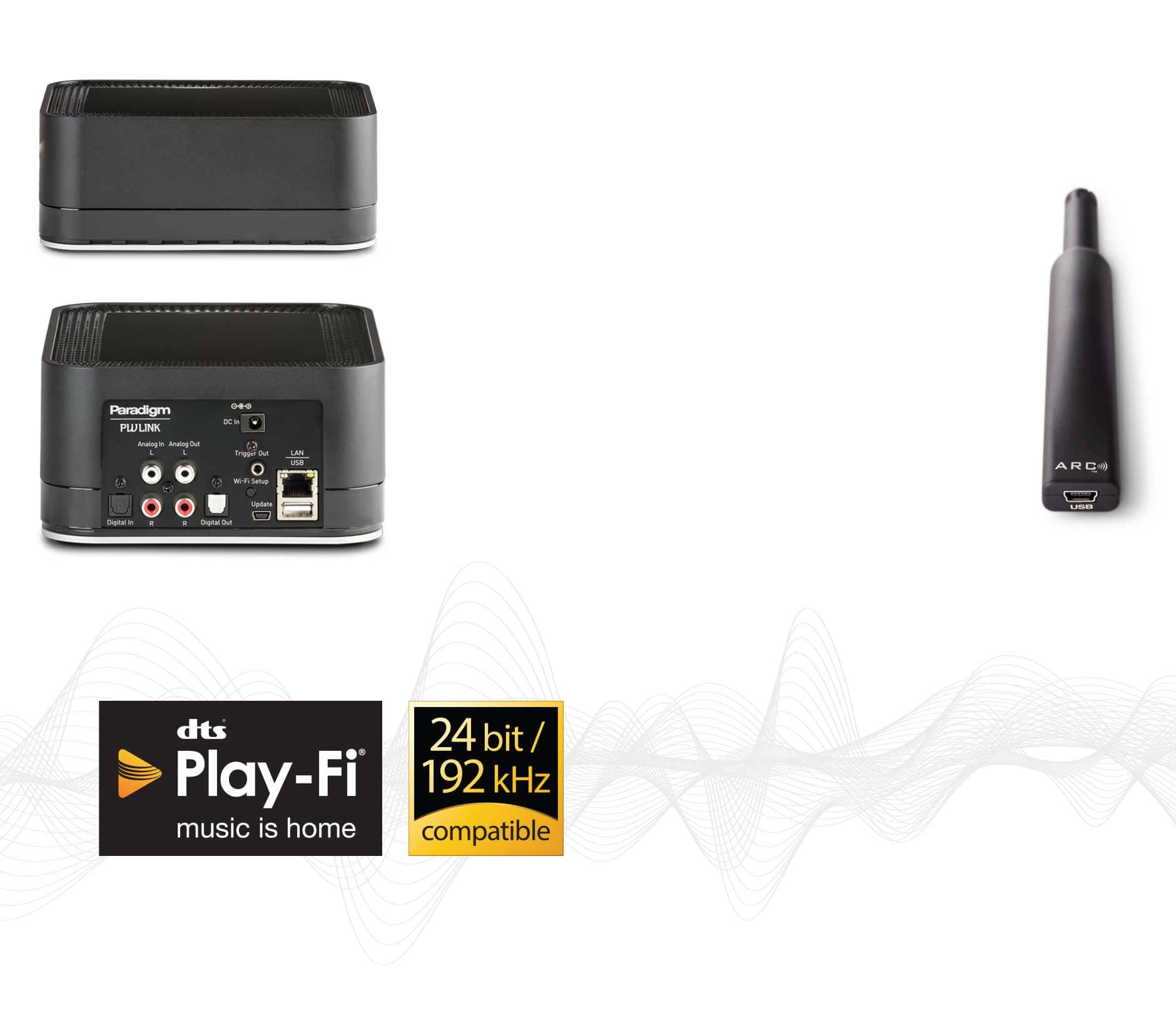 All your music, at your fingertips.
The whole family can now access personal digital audio libraries from anywhere in your home with the touch of a screen. Take advantage of endless choices from online music streaming services*. Stream from any device, Android or iOS mobile or PC, with a wide range of connectivity options for today and tomorrow.
* Some of the music services listed below may not be available in your region. All logos are property of their respective owner(s).


Your existing audio system will benefit from streaming, too
And Paradigm Premium Wireless Series won't trap you with the need for proprietary hardware. You can use the PW AMP, with its powerful Anthem class-D amplification, or the convenient PW LINK, to instantly stream high quality audio to your existing traditional loudspeaker systems, no matter the brand.
The decision is easy: Paradigm performance. The reward is a home filled with beautiful, high performance wireless audio. Choose the wireless streaming audio performance leader, the Paradigm Premium Wireless Series.