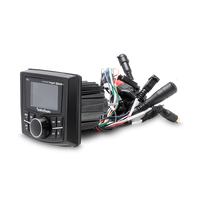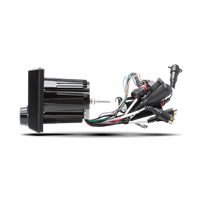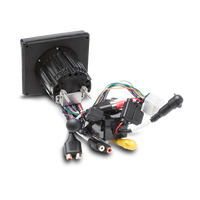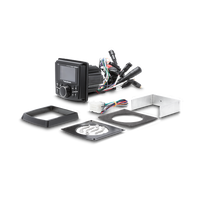 ROCKFORD FOSGATE
ROCKFORD FOSGATE Compact Digital Media Receiver w/ 2.7" Display
The PMX-3 is a ground up designed digital media receiver for marine and motorsports applications with full color 2.7" TFT display. This unit not only has the functionality you desire such as a custom designed GUI interface and menu system built with "ease of use" in mind, but also features SiriusXM tuner compatibility, Pandora radio control via USB or Bluetooth and full iPhone support with folder browsing capability.
Pandora® Internet Radio
(Yes/No)
Yes
SiriusXM-Ready®
(Yes/No)
Yes
Bluetooth®
(Yes/No)
Yes
3.0+EDR, A2DP 1.3
Apple®/Android™ Compatible
(Yes/No)
Yes
Limited functionality on Android. See owners manual.
Steering Wheel Control Ready
(Yes/No)
No
Speaker Outputs
(Yes/No)
Yes
Multi-Zone/Multi-Source
(Yes/No)
No
AUX Input
(Yes/No)
Yes (1pr)
AM TUNER
Frequency Range
530 kHz - 1710 kHz
TUNER
Number Of Presets
18 FM / 12 AM / 6 WB
FM TUNER
Frequency Range
87.5 MHz - 107.9 MHz
AM TUNER
Usable Sensitivity
40 dB
RCA Output Voltage
2V RMS
Does not clip at full output
(1 pr) Front
(1 pr) Rear (or Sub-out)
WB TUNER
Frequency Range
162.40 - 162.55
(US & Canada)
RCA Output Impedance
500Ω
Power Output

CEA-2006 Power Rating
25W x 4 @ 4Ω RMS
50W x 4 @ 2Ω Peak
≤1.0% THD+N
Device Type
Digital-Media Receiver
Frequency Response
20 Hz - 20 kHz
MEDIA PLAYER
Audio Format Compatibility
MP3
WMA
FLAC
Android Compatibility
Bluetooth® Only
USB Capacity
32Gb max
999 Folders max
999 Songs max
Operating Voltage
10.5 V - 16 V
Display Size
2.7" Color TFT
Back Panel Cutout
3" (77mm)
Dimensions (HxWxD)
Width 4.5" (11.5cm)
Face Depth 1.5" (3.8cm)
Mount Depth 2.9" (7.4cm)
Height 4.2" (10.6cm)
Shipping Weight
3.1 Lbs. (1.41 Kg)