LUXMAN
LUXMAN USB D/A CONVERTER DA-250
AVAILABILITY :
In Store Pick Up Only
Advanced versatility. A USB D/A Converter commanding the sound source and system
The DA-250 is a USB Digital Audio Converter that is based upon the successful design of the popular DA-200 with the addition of up-to-date functions and technical trends integrated into the compact sized body.The DA-250 is compatible up to 192kHz/32-bit PCM and 5.64 MHz DSD, features a headphone amplifier section with significantly improved drive force, includes the LUXMAN computerized attenuator 'LECUA'*and has the addition of a stylish remote control unit. These specifications make it possible to build a high grade audio environment with advanced versatility. The DA-250 is designed to be the core of an up-to-date desktop audio system and to utilise the latest technology to achieve a rich music playback environment.
*LECUA is an abbreviation of Luxman Electric Controlled Ultimate Attenuator.
*LUXMAN Audio Player(corresponding to Windows 10/Mac OS X v10/11) and driver software for Windows can be downloaded from LUXMAN homepage. 
* Windows is a registered trademark or a trademark of Microsoft Corporation in the United States and/or other countries.
* Mac is a registered trademark or a trademark of Apple Inc. in the U.S. and other countries.
* DSD is a registered trademark.
* The described company names and product names are trademarks or registered trademaks of each company.
* Specifications and appearance are subject to change without notice
* The product listed in this catalog does not include line cables. Please purchase cables separately.
Digital Circuit
For the DAC chip, a 32-bit compatible PCM1795(manufactured by Texas Instruments Incorporated) adopted is internally up-convertible to 352.8k/384kHz/32-bit.The USB input is compatible up to 192kHz/32-bit PCM data and DSD data (2.82M, 5.64MHz) whilst the S/PDIF input supports up to 192kHz/24-bit PCM signals. A variety of digital inputs (a coaxial input and 2 optical inputs) are provided as well as the USB input to connect to the digital output of a CD player and other peripheral AV devices. A selectable 32-bit digital filter for PCM and a selectable analog FIR filter for DSD allow the tone to be adjusted to taste. Low phase noise clock modules with high precision and low jitter are fitted independently on both the 44.1k and 48kHz channels to reduce noise. A remarkably reduced jitter for the USB input is achieved by asynchronous communication for the S/PDIF using an embedded DAIR high precision clock.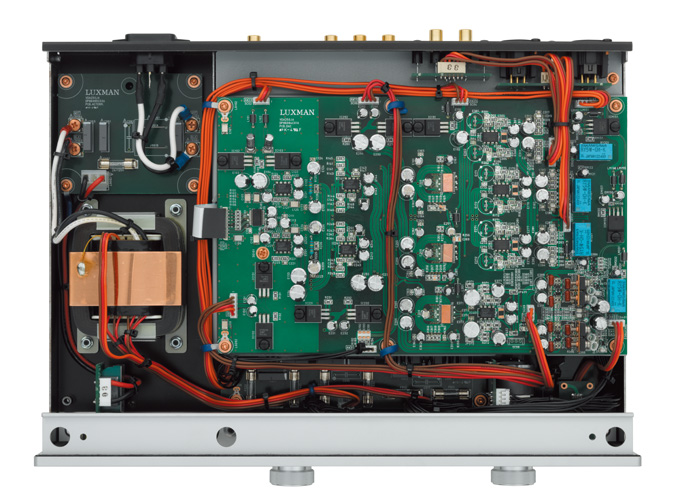 Analog circuit
The structure of the DAC + pre-amp + headphone amp inherited from the DA-200 has been greatly improved both in terms of the sound quality and functionality. 6 integrated circuited LECUAs are arranged independently in both the headphone and line outputs in order to completely eliminate level deviation at low sound volumes. For both the balanced and unbalanced line outputs, the output signal can be selected between FIX and VARIABLE. When VARIABLE is selected, the system can be connected directly to a power amplifier or active speakers. The drive force of the headphone output has been significantly improved with the addition of a discrete buffer circuit. A sensitivity selector has also been added. All line outputs feature an independent buffer circuit to prevent changes in sound quality when the outputs are used simultaneously. In addition, 1 line of analog input is available. A high-inertia power supply system consists of a large-capacity transformer, an independent regulator for each circuit and large-capacity block condensers.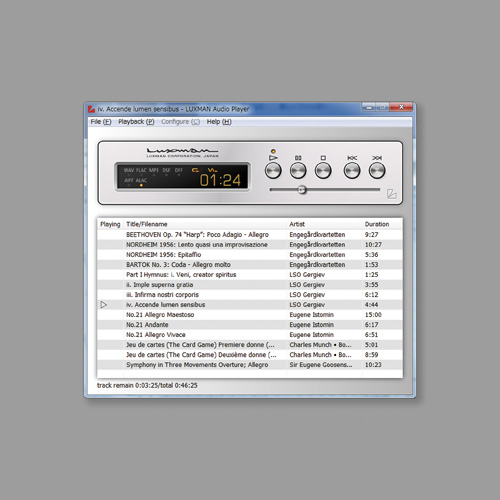 Additional features
A highly visible 2-stage, 7-segment LED with a dimmer function is mounted on the stylish front panel with a blaster white finish. The DA-250 also features an output phase selection switch that is useful for connecting with other companies' balanced devices. A compact, card style remote control is provided enabling full control from the listening position. Gold plated 18mm pitch RCA jacks and high grade XLR terminals manufactured by Neutrik® are mounted on the rear panel to allow high-quality, high performance cables to be used. The original LUXMAN high sound quality playback software 'LUXMAN Audio Player' is also available, supporting a wide variety of formats such as DSF and FLAC whilst offering a simple operation solution.
Format
2-channel D/A converter
Supported sampling frequencies
USB input (PCM) : 32k, 44.1k, 48k, 88.2k
96k, 176.4k, 192k(16, 24, 32bits)
USB input (DSD) : 2.82M, 5.64MHz (1bit)
COAX/OPT input : 32k, 44.1k, 48k, 88.2k
96k, 176.4k, 192kHz (16, 20, 24bits)
MC HIGH: 0.37mV, MC LOW: 0.12mV
Digital input
USB x 1, COAX x 1, OPT x 2
Digital output
COAX x 1, OPT x 1
Analog input
Unbalance x 1
Analog output
Unbalance x 1, Balance x 1, Headphone x 1
Line output voltage/imipedance
Unbalance : 2.5V/300Ω, Balance : 2.5V/600Ω
Headphone output
130mW + 130mW(600Ω)
400mW + 400mW(32Ω), 200mW + 200mW(16Ω)
Frequency response
2Hz to 50kHz (+0, -3.0dB)
Total harmonic distortion
0.001%
S/N ratio (IHF-A)
118dB
Power supply
230V~(50Hz) / 115V~(60Hz)
Power consumption
20W
Dimensions
364(W) x 81(H) x 279(D) mm
front side knob of 14mm and rear side terminal
of 8mm included in depth
Net weight
5.4kg(main unit)
Accessories
Remote control (RD-24) Power cable