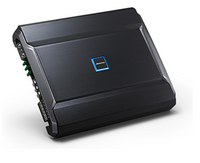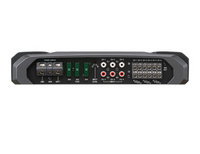 ALPINE
ALPINE R-A90S R-Series Power Amplifier
R-Series 6/5/4/3 Channel Power Amplifier with Staggered Power
Experience your music in Hi-Res with the versatile R-A90S 6-Channel Amplifier for hair-raising details that puts you in the center of the performance.
FEATURES
6-CHANNEL AMP WITH 5-CHANNEL POWER
The R-A90S has a unique staggered power channel layout that has double the power on the last two channels. When looking to power a dual subwoofer configuration, the R-A90S's 5th and 6th channels can be bridged to provide up to 500-watts at 4Ω. The R-A90S is matched in power and performance for the Dual 10-inch Alpine Halo S-Series Preloaded Subwoofer Enclosures with ProLink™.
TECH SPECS
Dimensions: 12.75" x 10.75" x 2"
Hi-Resolution Audio Compliant (40k Hz)
Alpine's Class D Amplifier Circuit 75W x 4 + 150W x 2 (4Ω, 14.4V, < 1% THD +N)
100W x 4 + 250W x 2 (2Ω, 14.4V, < 1% THD +N) Bridged: 200W x 2 + 500W x 1 (4Ω, 14.4V, < 1% THD +N)
S/N > 85dB (ref. 1W into 4Ω)
THD + N < 0.03% (ref. 10W into 4Ω)
Frequency response: 10-45kHz (0/-3dB)
Damping factor > 500 CTA-2006