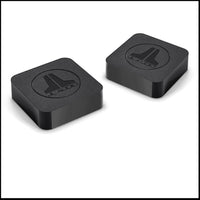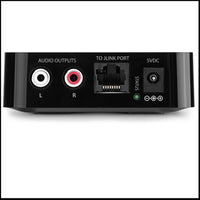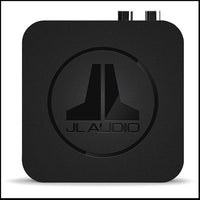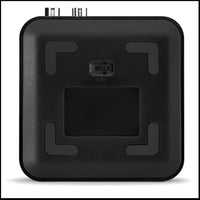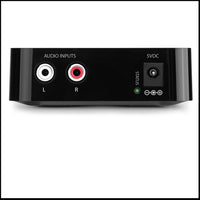 JL AUDIO
JL AUDIO JLINK™ TRX: Wireless, High-Fidelity Audio Transmitter & Receiver Kit
AVAILABILITY :
In Store Pick Up Only
JLINK™ TRX
Wireless, High-Fidelity Audio Transmitter & Receiver Kit
Using state-of-the-art wireless technology, the JLINK™ TRX system delivers pure, high-fidelity sound throughout your home, invisibly and effortlessly.
By broadcasting at an ultra-high frequency of 2.4 GHz, the JLINK™ TRX lets you connect any two line-level audio devices together, without the use of RCA signal cables to connect in between. Now you can send crystal clear, stereo sound from a source unit to a receiver, preamp or powered loudspeakers, wirelessly, up to 100 feet away (30 meters) without needing to route or hide long expanses of signal cables. RCA-type input/output connectors are compatible with most audio equipment and a compact design makes it easy to hide the transmitter and receiver chassis out of sight. A JLINK™ port is also included on the receiver for direct connection with JLINK™ compatible JL Audio products.
Especially useful in system designs that include remote source applications, lengthy signal cable runs or demanding installations due to challenging architecture, the JLINK™ TRX system gives you the freedom to position a source unit or outlying amplifier/powered loudspeakers (subwoofer or full-range) almost anywhere you would like.
Outstanding fidelity in subwoofer and full-range applications
Bit-Perfect Digital PCM Stereo Wireless Technology (16 bit / 48 kHz)
RCA-type input/output connectors are compatible with most audio equipment
Up to 3 JLINK™ transmitters can be used concurrently (3 channels to choose from)
Up to 4 JLINK™ receivers (sold separately) can be paired to each JLINK™ transmitter
Receiver includes JLINK™ port for use with compatible JL Audio products.
| | |
| --- | --- |
| S/N Ratio | 80 dB @ 1 kHz, 500 mV |
| THD+N | 0.02% @ 1 kHz, 500 mV |
| Crosstalk | >75 dB @ 1 kHz, 500 mV |
| Frequency Response | 16 Hz – 22 kHz (+0, -1dB) |
| Wireless Range | 100 feet / 30 meters (typical) |
| Wireless Channels | 3 available, selectable via switch |
| Latency | 14 mS |
| Operating Temperature | 32 to 104 °F / 0 to 40 °C |
| AC Power Adaptor | 1 A, 5 volts DC |
| | |
| --- | --- |
| Input Impedance | 25 kΩ |
| Outputs | Bit-Perfect PCM Stereo Digital via 2.4 GHz Wireless |
| Receivers Supported | Up to 4 |
| Bit Depth/Sample Rate | 16 Bit / 48 kHz |
| Power Requirements | 200 mA, 5 volts (via AC adaptor) |
| Height (H) | 1.12 in / 28.5 mm |
| Width (W) | 3.5 in / 89 mm |
| Depth (D) | 3.5 in / 89 mm |
| Inputs | Analog, left and right RCA-type |
Inputs
Bit-Perfect PCM Stereo Digital via 2.4 GHz Wireless
Outputs
Analog, left & right RCA-type

 

Analog via JLINK port to compatible product
Output Impedance
250 Ω
Full Scale Output Voltage
1.2 V
Power Requirements
100 mA, 5 volts (via AC adaptor or JLINK port)
Height (H)
1.12 in / 28.5 mm
Width (W)
3.5 in / 89 mm
Depth (D)
3.5 in / 89 mm
Find the answers to many common questions:
*********************************
U.S.A. Warranty Information - Home Audio Electronics

JL Audio Home Audio Powered Subwoofer Systems are warrantied against defects in materials and workmanship for Three (3) Years from purchase date. JL Audio will, at its discretion, repair or replace any products that exhibit defects in materials and/or workmanship during the warranty period.

Please hold on to your sales receipt! All warranty service requires original sales receipt documentation. The warranty only applies to the original purchaser from an authorized retailer. 
Note: Products purchased from unauthorized dealers are not covered under warranty.


Warranty Limitations

The following is not covered under JL Audio's warranty program:
1. Product with defaced, altered or removed serial numbers (no valid, legible serial number = no warranty).
2. Product owned by anyone other than the original purchaser from an authorized JL Audio dealer. (The warranty is not transferable and will not apply to products purchased from unauthorized dealers.)
3. Product that has been physically abused (run over by a car or beat with a hammer, for example).
4. Product that has not been installed according to the instructions in the owner's manual
5. Product in which repair and/or modification has been attempted by unauthorized parties
6. Product damaged cosmetically due to improper handling or normal wear and tear
7. Product damaged in an accident, due to criminal activity (attempted theft, gunshot damage, etc.) or by 'acts of God' (flooding, lightning, locusts, etc.)
8. Custom finishes or other cosmetic treatments applied to products. (JL Audio will not be responsible for restoring or maintaining any custom finishes)
9. Installation and shipping costs associated with removing, re-installing or shipping the product to JL Audio for warranty service
Ask your dealer for details on warranty limitations.


If you need Service on your JL Audio Product:
All warranty returns should be sent to JL AUDIO freight prepaid through an authorized JL AUDIO dealer and must be accompanied by proof of purchase (a copy of the original sales receipt.) Direct returns from consumers or non-authorized dealers will be refused unless specifically authorized by JL AUDIO with a valid return authorization number. Warranty expiration on products returned without proof of purchase will be determined from the manufacturing date code. Coverage may be invalidated as this date is previous to purchase date. Return only defective components. Non-defective items received will be returned freight-collect. Customer is responsible for shipping charges and insurance in sending the product to JL AUDIO. Freight damage on returns is not covered under warranty. Always include proof of purchase (sales receipt).