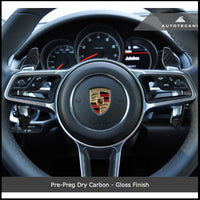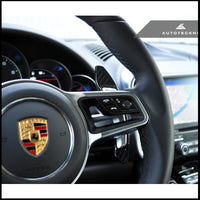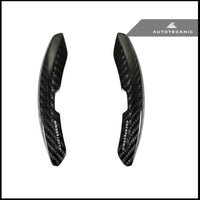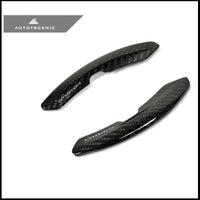 C3 CARBON
Autotecknic Porsche 718 & 991.2 Carbon Fiber Shift Paddles
Autotecknic Dry Carbon Competition Steering Shift Paddles for:
718 Cayman/ Boxster (all)
991.2 Carrera/ Turbo/ GT3
991 GT3 RS
971 Panamera (all)
95B Macan (all)
958.2 Cayenne (all)
918
As purists ourselves, we understand the goals of all car enthusiasts: to go as fast as possible while maintaining safety and a comfortable position in the pilot's seat, all at the same time.
When it comes to piloting a vehicle, the driver is in optimum control when they become one with the car. In order to help bring that concept to reality, AutoTecknic developed these extended paddle shifters.
During their meticulous development process, AutoTecknic set out to craft a set of paddles that maximize the communication between the driver, steering wheel, and PDK transmission. To achieve this ideal, AutoTecknic paddles are 35% bigger than the OEM ones. On top of that, the shape of the paddles is perfectly matched to the exact contours of the steering wheel, to provide easy reach and optimal feedback. The result is perfect shifts every time!
These are the perfect upgrade for street and track use, and the dynamic surface design and gloss urethane finish enhances the overall aesthetic look of the interior.
Shift better and faster with Autotecknic!