IN-STORE PURCHASE ONLY
PARADIGM
PARADIGM CI Pro P1-LCR v2
The Custom Installer's Smarter Choice.
The CI Pro™ Series is Crafted in Canada, taking performance to the next level with patented technology, step-up components, hallmark Paradigm sound quality, and a new bezel-free micro-perf grille with an incredibly discreet aesthetic.
Integrated Back Box
Get floorstanding performance, without the floorstanding speaker! CI Pro LCR models have integrated back boxes to eliminate the guess work of wall cavities for the highest level of performance.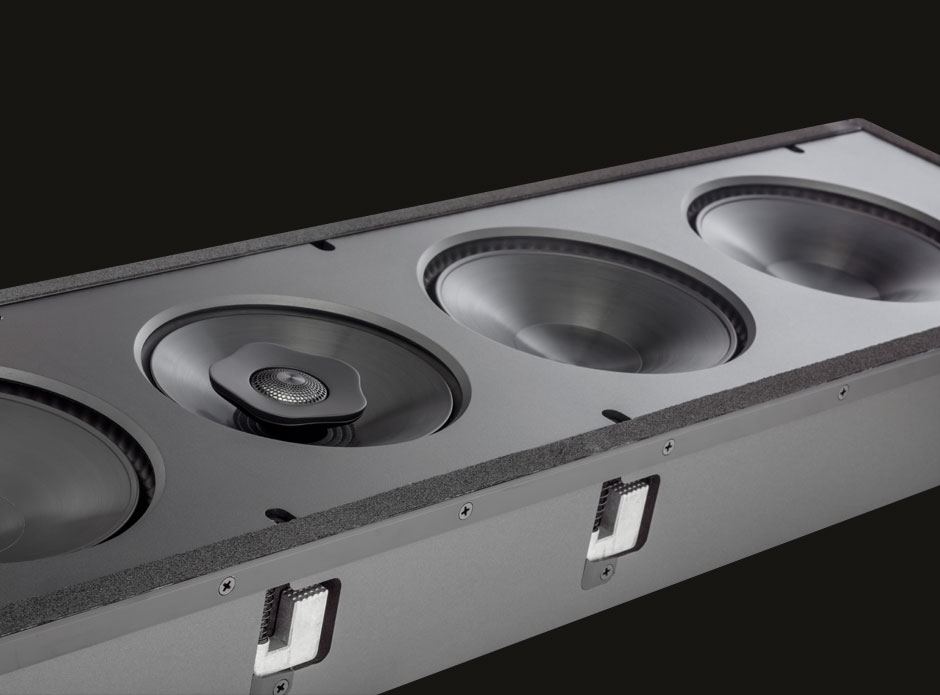 Screen Compensation Switch
The selectable switch on every LCR model will ensure true acoustic transparency when placed behind micro-perforated projection screens.
Innovative Technology makes the Difference
NEW

 

X-PAL™ tweeter with exclusive

 

Perforated Phase-Aligning (PPA™) Tweeter Lens

 

that protects the delicate pure-aluminum tweeter dome and acts as the Phase Plug, blocking out-of-phase frequencies for smoother, extended high frequencies with incredible detail and higher output.
Our tweeter designs are cooled by the original ultra-stable Ferrofluid, made exclusively by Ferrotec. Ferrofluid is a colloidal suspension of magnetic nano particles in a liquid carrier with low volatility and high thermal stability.
Superior Mineral-Filled Co-Polymer Polypropylene Bass/Midrage Cones Oversized computer-optimized ferrite magnets and high-power motor structures deliver detailed midrange performance with clean, extended bass. Even movie dialog is incredibly clean and clear.
Paradigm's patented†

 

Active Ridge Technology (ART™)

 

surrounds, made in-house and overmolded directly onto each cone, achieve greater excursion for a 3dB gain in distortion-free output (50% greater) compared to drivers with standard surrounds. Crafted from audiophile-grade injection-molded thermoplastic elastomer, ART™ surrounds are more durable and reliable, for a lifetime of superior sound.

 



† US patents: D654,479S and 8,340,340B2.
Super-strong die-cast aluminum baskets feature integrated heat sinks for higher power handling, better bass, better dynamics, and less power compression.
1" High-Power Handling Voice Coil

 

motor structure dramatically increases maximum output level and reduces power compression.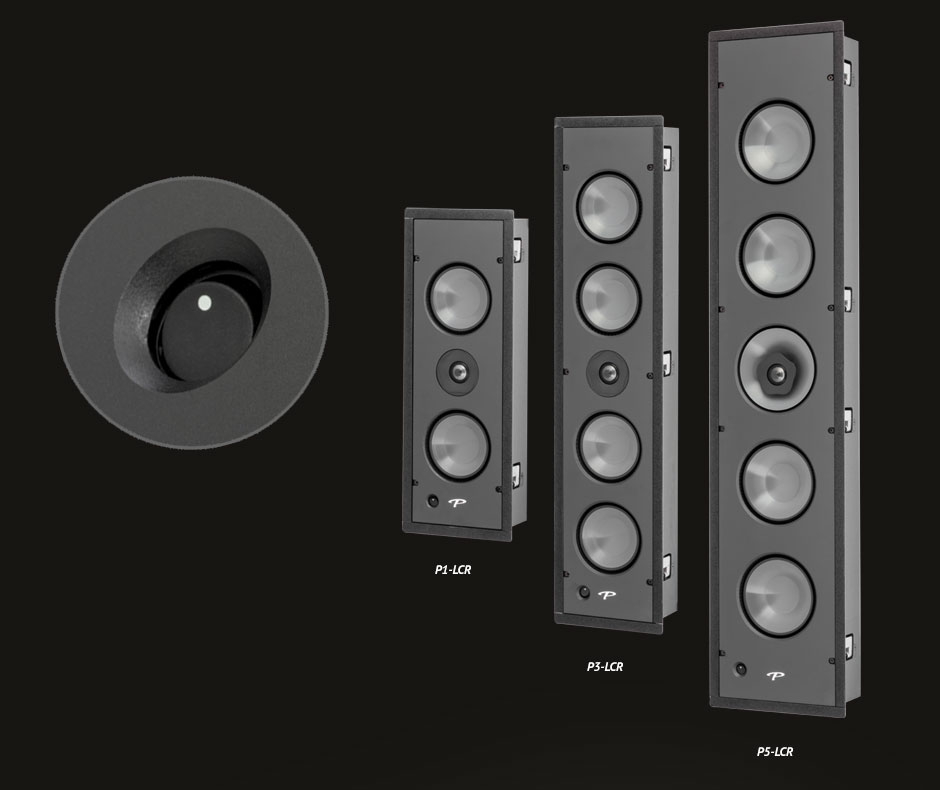 Reduced Edge Diffraction (RED™) Technology
RED™ Technology (patent pending) is a die-cast aluminum tweeter housing that significantly reduces negative effects of diffraction while improving critical midrange frequencies. The irregular edges and off-center placement break up standing waves typically found around the woofer cone and tweeter housing of traditional designs. Additionally, the aluminum structure dissipates unwanted heat which increases power handling and allows a lower crossover frequency, improving sound and reducing distortion.
Advanced Features for a Solid and Secure Installation
Die-cast aluminum chassis and clamps

 

add strength and rigidity for better bass and midrange, along with a more durable installation.
Pocketed screw holes help to hold the drill steady, making installation a snap.
Magnetically attached grilles: neodymium magnets hold grilles firmly in place.
Nickel-plated, spring loaded binding postsfeature a larger wire hole to accept higher-gauge wire or banana plugs.
Premium-grade components

 

include high-power rated resistors, capacitors, and heavy gauge wire inductors. 
NEW

 

Bezel-Free Micro-Perf Grilles.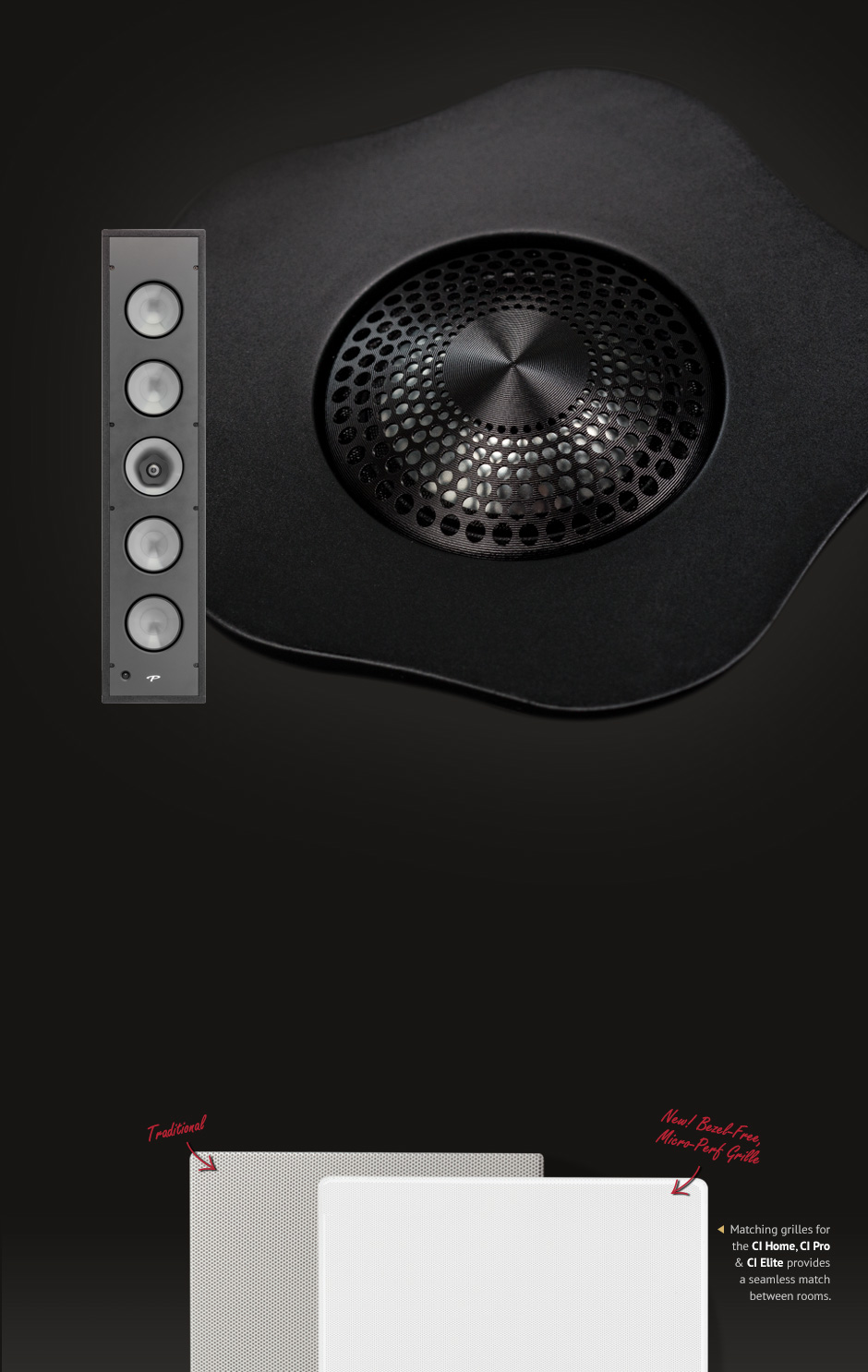 Innovative Technology
At Every Level

Tweeter Technology

Pure-Titanium Tweeter Dome (PTD™)
 
•
 
 
X-PAL™ Tweeter with Exclusive Perforated Phase-Aligning (PPA™) Tweeter Lens
 
 
•
•
Reduced Edge Diffraction (RED™) Technology (Patent Pending) with Added Heat Dissipation
 
 
•
•

Bass/Midrange Technology

Mineral-Filled Polypropylene Cone
 
•
•
 
Patented Active Ridge Technology (ART™)
 
 
•
•
X-PAL™ Brushed Pure-Aluminum Cone Driver
 
 
 
•
Die-Cast Aluminum Chassis
 
 
•
•
Oversized, High-Power-Handling Voice Coil
 
 
 
•

Features/Functions (In-Wall / In-Ceiling)

Dual-Directional Soundfield™ Model
 
•
•
 
30°-Angled Guided Soundfield™ Model
 
•
•
•
Bezel-Free Micro-Perf Grille
 
•
•
•
Rigid ABS Clamps
 
•
 
 
Die-Cast Aluminum Clamps
 
 
•
•
Translucent Polycarbonate Cover protects against dust and insulation

 

(excludes LCR models)
 
 
•
•
Designed and Manufactured in our Canadian Facility
 
 

Features/Functions (LCR Models ONLY)

Integrated Back Box
 
•
•
Screen Compensation Mode
 
•
•
Metal Baffle
 
•
MDF Baffle
 
•
CI Pro P1-LCR Specifications
Design

3 driver, 2 way, shallow enclosure in-wall design

Crossover

3rd-order electro-acoustic at 2.2 kHz

Frequency Response   On-Axis

±3 dB from 94 Hz - 22 kHz

Frequency Response   30° Off-Axis

±3 dB from 94 Hz - 19 kHz

High Frequency Driver

1" (2.5cm) X-PAL™ dome, ferro-fluid damped / cooled, Reduced Edge Diffraction (RED™) Technology, Perforated Phase-Aligning (PPA™) Tweeter Lens

Mid/Bass Frequency Driver

Two 5.5" (13.9cm) mineral-filled polypropylene drivers, overmolded Active Ridge Technology (ART™) surround, die-cast aluminum chassis, 1" (2.5cm) high-temp mid-bass voice coil

Low Frequency Extension

74 Hz

Sensitivity   Room / Anechoic

92 dB / 89 dB

Impedance

Compatible with 8 ohms

Suitable Amplifier Power Range

15-120 W

Maximum Input Power

90 W

Finishes

White, paintable grille

Weight

15.0 lbs. (6.8 kg)

Overall Dimensions


20.625" (52.4cm) Height 
7.625" (19.4cm) Width 
4.125" (10.5cm) Depth 

Cut-Out Dimensions


19.625" (49.8cm) Height 
6.625" (16.8cm) Width 

Minimum Mounting Depth
Depth required is the distance
between 1/2" drywall, or similar material.

3.875" (9.8cm)

 
Specifications are subject to change without notice.