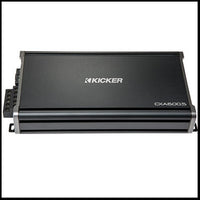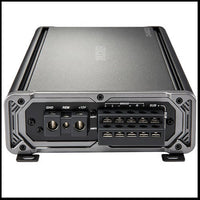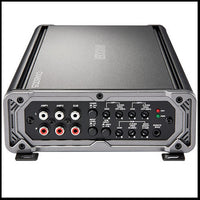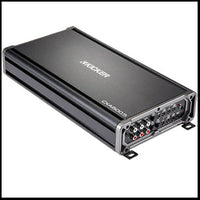 KICKER
KICKER CX600.5 Multi-Channel Amplifier
CX Series amps reach massive power levels thanks to an optimized circuit layout and the highest-grade internal components available. Highly efficient heat sinks keep the amp cool with a sophisticated new look. Mono amps offer an optional remote level control to adjust your bass right from the dash.
CX600.5 Multi-Channel Amplifier
The CX 600.5 Amplifier is built to be the complete package in one cool looking amp.
This CX amplifier uses powerful Class A/B technology to power 4 mid/high range channels and an ultra-efficient Class D power for the bass channel. The amp comes equipped with FIT™ (Fail-Safe Integration Technology) – giving you superior power, clarity and dependability. An enormous 12dB of variable bass boost with KickEQ™ lets you get as much as a 12dB of extra bump with a simple turn of the knob. A powerful 12dB DSP (digital signal processor) controlled crossover and 24dB subsonic filter is also included, letting you quickly tune your entire system.
MODEL
CX-SERIES MULTI-CHANNEL
AMPLIFIERS CXA600.5
Power (watts/ch), 2 Ohm stereo
75x 4
Power (watts/ch), 4 Ohm bridged mono
150 x 2
Power (watts/ch), 2 Ohm mono
300 x 1
CXRC Remote Bass Capable (sold sep.)
yes
Dimensions
(in.) 2-3/8H x 7-3/16W x 14
(cm) 6.0H x 18.0W x 36
Frequency Response (Hz):
10-20k (CX.5 sub ch. 25-200), +0/-1dB
Input Sensitivity:
high level 250mV-10V,
low level 125mV-5V
Signal-to-Noise Ratio:
>95dB (CX.5 >90dB), a-weighted,
re: rated power
Active Crossover:
12dB/octave, variable 50-200Hz,
selectable high pass, low pass or all pass;
(CX.5 sub channel) 12dB/octave, variable
50-200Hz, low pass only
Subsonic Filter
24dB/octave high-pass fixed @ 25Hz
KickEQ™ Boost
(CX.5 sub channel) variable to +12dB,
centered @ 40Hz