IN-STORE PURCHASE ONLY
PARADIGM
PARADIGM GO4
Garden Oasis
GO4
Satellite Speaker with 4" driver
The Garden Oasis GO4 enclosure is more than twice as strong as other outdoor speakers, thanks to their thermoplastic shell and mounting stem. Durable, weatherproof thermoplastic is water-resistant and withstands extreme temperatures up and down the thermometer. Its high crystallinity, with high UVB resistance, keeps it from cracking over time, making it the best material for a long, trouble-free life out-of-doors. Each satellite speaker includes an off-season cap for extra protection from the elements.
GO4 Specifications
Design

2-driver, 2-way acoustic suspension, weather, water, UV-resistant PolyGlass™ enclosure

Crossover

2nd-order electro-acoustic at 2.5 kHz

Frequency Response
On-Axis

±3 dB from 120 Hz - 20 kHz

High Frequency Driver

3/4" (1.9cm) X-PAL™ dome, ferro-fluid damped / cooled, Reduced Edge Diffraction (RED™) Technology, Perforated Phase-Aligning (PPA™) Tweeter Lens, die-cast low diffraction baffle/heat sink

Midrange Frequency Driver

4" (10 cm) mineral-filled polypropylene cone, Nitrile-Butadiene Rubber (NBR) surround

Low Frequency Extension

77 Hz

Sensitivity
Room / Anechoic

87 dB / 83 dB

Impedance

Compatible with 8 ohms

Suitable Amplifier Power Range

15 - 120 watts

Maximum Input Power

60 watts

Finishes

Satin Bronze

Weight

4.3 lbs. (2.6 kg)

 

Specifications are subject to change without notice.

 
Plant your music outdoors.
Paradigm means no limits! Now enjoy superior audio performance combined with a rugged weatherproof design and innovative Paradigm RED™ technology in Paradigm's first-ever landscape loudspeaker system: Garden Oasis. Weatherproof outdoor audio adds excitement to pool parties, deck dinners, outdoor movie nights, or just an evening out under the stars. And only the Garden Oasis Series performs like Paradigm.
Satellite Speakers
Each individual Garden Oasis satellite speaker is a sealed, completely waterproof enclosure. It is molded in heavy duty fade-resistant PolyGlass™ enclosure, and tinted to blend unobtrusively with your outdoor environment. It features Paradigm's patent pending Reduced Edge Diffraction (RED™) Technology, with premium driver and tweeter components in a single wide-dispersion shell casing. Garden Oasis speakers deliver a dynamic, natural sound unmatched by other outdoor loudspeakers.
Plan a Scalable System
Garden Oasis speakers are scalable. Unlike many other systems, you can start with just a pair of satellites and a subwoofer, and expand the system as your needs change, or as your budget allows. Garden Oasis can fit any size space, large or small, for ultimate flexibility.
Quick Connect System
Mount the speakers on the ground, on a deck rail, in a tree, or under an eave. The half-inch threaded "Quick Twist Cap" mount works universally with all three speaker mounts: Ground Stake, wire-protecting Inground Conduit Box, or Surface Mount for decks and walls. These mounting options give you the flexibility to "plant" these satellites anywhere to get the sound coverage you desire.
Reduced Edge Diffraction (RED™) Technology
Patent-pending RED Technology consists of a tweeter housing that significantly reduces the negative effects of diffraction, while improving critical midrange frequencies even in the expansive outdoor environment. Its irregular edges and off-center placement break up the performance-robbing standing waves typically generated by traditional woofer cone and tweeter housing designs.
Off-Season Cover
Winter can be harsh, but we've got you covered...literally! Protect your speakers during the off-season with water-tight rubber covers.
Rotary Selector Switch
The rotary selector switch on the rear of each GO4 or GO6 speaker is easily accessed, allowing for quick conversion from 8-Ohm to 70/100V configurations.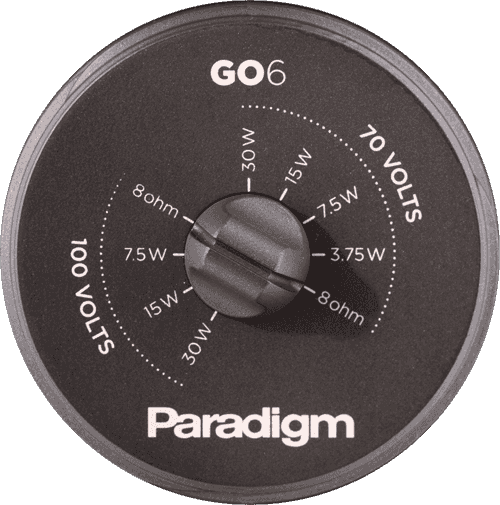 Or, power your Garden Oasis system using the 8 Ohm amplifier of your choice.
Use the chart below to dial-in the correct volt-tap settings that match the number of speakers, subwoofers, length of wire, and amplifier used in your Garden Oasis system.