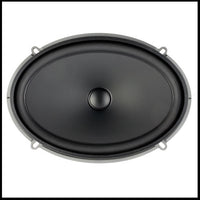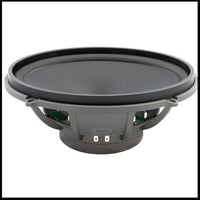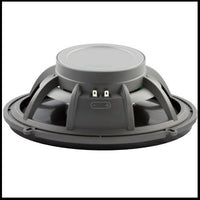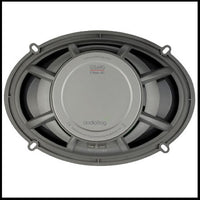 AUDIOFROG
AUDIOFROG GS690 6″ x 9″ WOOFER/MIDRANGE LOUDSPEAKER
Designed to be used in two- or three-way systems, the GS690 includes a non-resonant injection-molded ABS plastic and fiberglass vented basket.
The 1" copper voice coil wound on a Kapton® former provides high power handling. A parabolic propylene cone ensures long-term reliability and provides the right compromise between compliance and stiffness for flatter high frequency response. The ferrite motor includes a neodymium bucking magnet atop the pole piece for increased motor strength and sensitivity. Terminals are secured by a small PC board integrated into the inside of the basket.
The GS690 is designed as a replacement upgrade for factory systems that include a 6″x9″ component woofer and a tweeter or full-range high frequency driver.
The GS690 is optimized for use in passive systems with the GS10 tweeter and the GS610C passive crossover. It can also be used in active systems or in a three-way system with the GS10 and GS40. For a combination of active and passive three-way system, use the GS690 with the GS10, GS40 and GS410C.
Proprietary injection molded vented ABS and fiberglass basket
1″ (25mm) copper voice coil on Kapton® former
Ferrite motor with extended polepiece for magnetic field symmetry
Parabolic propylene cone
Flat progressive Nomex® spider
Nitrile butadiene rubber surround
Fast-on terminals secured with integrated PC board
Specifications:
Nominal Impedance: 4Ω
RMS Power Handling: 100 W
Peak Power Handling: 300 W
Frequency Response (-3 dB): 42 Hz – 5 kHz
Sensitivity (2.83 V/1 M): 92 dB
Recommended Amplifier RMS Power Range: 15 W – 100 W
Recommended Low Pass Filter Frequency and Slope: ≤ 3.5 kHz, ≥ 12 dB/oct
Dimensions: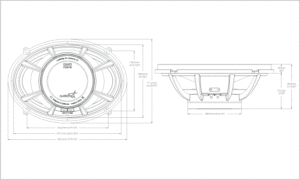 Frequency Response & Impedance:

Thiele & Small Parameters:
Revc: 2.31 Ω
Levc@1kHz: 0.18 mH
Sd: 221 cm²
Mmd: 22.1 g
Mms: 24.46 g
Cms: 314 µM/N
Vas: 21.9 liters
Fs: 58.3 Hz
BL: 5.43 TM
Qms: 8.66
Qes: .069
Qts: 0.64
Xmax (1-way linear): 5 mm (7/32")
Basket Displacement: 0.42 liters (0.015ft³)