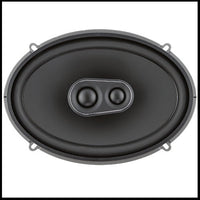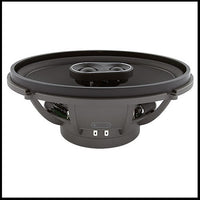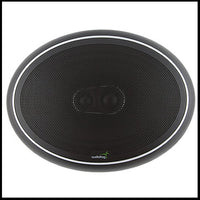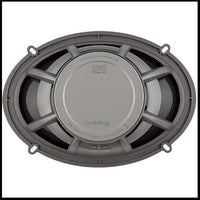 AUDIOFROG
AUDIOFROG GS693 6″ x 9″ FULL RANGE LOUDSPEAKER
Designed as an easily installed premium upgrade, the GS693 includes a proprietary injection-molded ABS and fiberglass vented basket shallow enough to fit factory door locations when necessary. 1" (25mm) and 3/4" (20mm) fabric dome tweeters are mounted in a low profile housing designed to fit easily under factory grilles.
The tweeter faceplate includes waveguides designed to boost the tweeters' low frequencies and ensure a smooth transition to the midrange. That transition is also controlled by a 12dB/octave high pass filter and 6dB/octave low pass filter.
The entire crossover network is mounted to a PC board integrated into the basket, which also secures the terminals. The GS693 woofer includes a 1" copper voice coil wound on a Kapton® former for superior power handling.
Injection molded ABS plastic and fiberglass vented basket
Parabolic polypropylene cone
Nitrile butadiene rubber surround
1" (25mm) copper voice coil on Kapton® former
Flat progressive Nomex® spider
Ferrite magnet
1" (25mm) and 3/4″ (20mm) fabric dome neodymium tweeters
Tweeters include reflection absorbing and diffusing foam pad
Low-profile tweeter waveguide helps to provide smooth transition to the midrange
Fast-on terminals secured with integrated PC board
Integrated passive crossover (12dB/octave high pass and 6dB/octave low pass)
Grille included
Specifications:
Nominal Impedance: 4Ω
RMS Power Handling: 100 W (with recommended crossover)
Peak Power Handling: 300 W (with recommended crossover)
Frequency Response: 42 Hz – 20 kHz
Sensitivity (2.83 V/1 M): 92 dB
Recommended Amplifier RMS Power Range: 15 W – 75 W
Dimensions:
Cut-out diameter: 148.5 mm x 219.1 mm (5-7/8″ x 8-21/32″)
Overall Diameter: 171.6 mm x 242.6 mm (6-25/32″ x 9-9/16″)
Overall Diameter Including Mounting Tabs: 171.6 mm x 242.6 mm (6-25/32″ x 9-9/16″)
Mounting Depth: 72.3 mm (2-7/8″)
Mounting Height: 18.5 mm (3/4″)
Frequency Response Graph: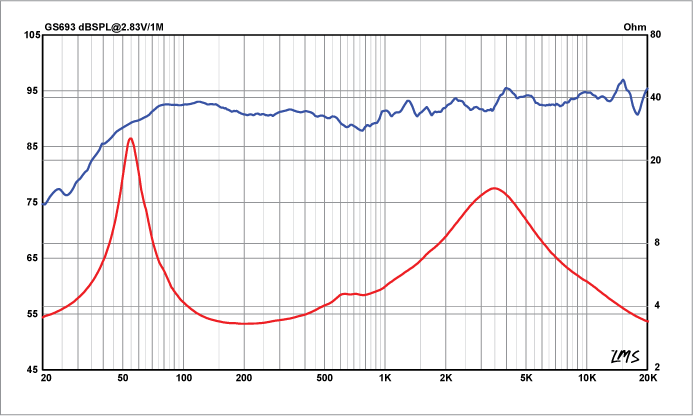 Thiele & Small Parameters:
Revc: 2.31 Ω
Levc@1kHz: 0.22 mH
Sd: 221 cm²
Mmd: 21.6 g
Mms: 23.46 g
Cms: 314 µM/N
Vas: 21.9 liters
Fs: 58.6 Hz
BL: 5.43 TM
Qms: 8.64
Qes: .068
Qts: 0.63
Xmax (1-way linear): 5 mm (7/32")
Basket Displacement: 0.42 liters (0.015ft³)