KICKER
KEYLOC Kicker's KEYLOC Smart Line-Out Converter
Aftermarket integration done right

We're encountering more and more instances where the factory stereo system in a vehicle can't be replaced or bypassed, so any aftermarket amps and processors have to use the speaker wiring in order to get signal. We've also found that not all wires carry a full-range signal — high frequencies go to tweeters, midrange sounds may go to door speakers, and low frequencies go to a factory subwoofer — making it pretty complicated to access a full-range signal for your aftermarket system.
KEYLOC to the rescue
Kicker's KEYLOC Smart Line-Out Converter solves these issues by, first, automatically detecting the frequency range of the speaker wiring you want to use for your system's input, so you'll know if you're tapping into a full-range signal or not. Then, you engage the KEYLOC's factory EQ correction feature to produce a flat response for your aftermarket system to handle. After installation, you download test tones and tracks, free from Kicker, to use for signal identification and restoration. The device's KEY button gets you into the automatic programming and set-up modes, where you use four different Kicker files to analyze the factory signal and then restore full-range sound, while blinking LEDs indicate what's happening.
Manual override
Some factory systems have one speaker, usually the front passenger side, purposely wired out of phase to give a 3-D effect to the sound. You can program your KEYLOC to correct for that. You can also program the KEYLOC to pass low frequencies only, when you're only adding a subwoofer to your system.
It'll fit in anywhere
This unit is so small it'll fit in most dashes. Kicker's FIT2™ technology — with speaker-level inputs that can take up to 400 watts RMS — ensures this line output converter will work in almost any system. A Radio-Detect function makes sure you never get a "No Speakers Detected" message on your receiver's display when you install this processor. Output gain controls let you adjust your KEYLOC's output to match your amplifier's input sensitivity.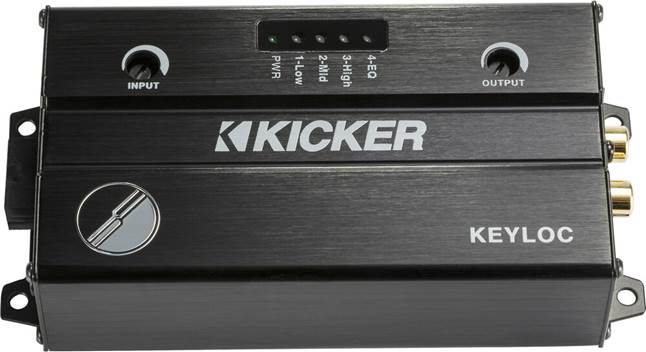 Product highlights:
2-channel active line output converter
automatic frequency response detection (RTA)
automatic factory EQ correction (DE-EQ)

download test tones and tracks from Kicker.com/test-tones
manual programming includes an all-pass option to remove factory phase issues

2 speaker-level inputs with up to 400 watts RMS power handling
2 preamp-level outputs (up to 10V)
output gain controls
12-volt turn-on lead output
fuse rating: 2A x 1
dimensions: 5-3/4"W x 1-7/16"H x 2-7/8"D
warranty: 2 years
MFR # 47KEYLOC
What's in the box:
DSP-Controlled line-output converter (2 ch.)
10" 8-Pin harness
Four 10mm screws
Quickstart guide
Kicker Tech Support information