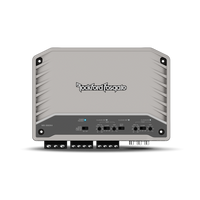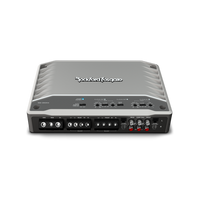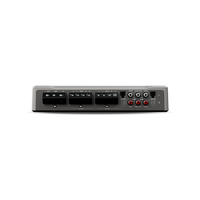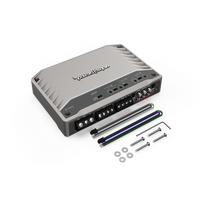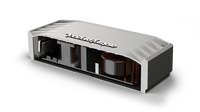 ROCKFORD FOSGATE
M2-300X4 300 Watt 5-Channel Element Ready™ Amplifier
Designed to withstand the elements, the M2-300X4 Element Ready™ amplifier is a 300 watt, full-range class-D model, capable of operating at 4Ω or 2Ω stereo, and 4Ω bridged/mono. This amplifier is extremely efficient because of its class D technology which reduces demand on the electrical system. The amp also features C.L.E.A.N. circuitry to help you adjust your gain settings, a P.O.W.E.R. Supply that generates more power as voltage increases.
Serious marine sound, made simple. The M5 amplifiers feature the next level of Element Ready™ design from Rockford Fosgate that's built as rugged as the outdoor environment it's used in.
Features & Benefits:
Element Ready™: Purpose Built for the Marine Environment, Rockford's Element Ready™ products are built to stand up to Water, Salt, and UV, making sure your amplifiers stand the test of time.
C.L.E.A.N.: Our Patented circuit with input and output clip indicators help match the source unit to the amplifier, which makes for easy set-up and optimizes musical output.
P.O.W.E.R. Supply: The unique P.O.W.E.R. supply continues to generate more than rated power as the voltage increases, giving you the output, you demand.
SPECIFICATIONS:
Total Power
(Sum of Rated Power)
300 Watts
Rated Power
(RMS Continuous Power)
50 Watts x 4 @ 4Ω
75 Watts x 4 @ 2Ω
150 Watts x 2 @ 4Ω Bridged/Mono
Dynamic Power
(PVC/PowerCube®)
70 Watts x 4 @ 4Ω
115 Watts x 4 @ 2Ω
230 Watts x 2 @ 4Ω Bridged/Mono
Frequency Response
20 Hz - 20 kHz
Input Sensitivity
Low-Level: 150 mV - 4 V
High-Level: 450 mV - 12 V
Circuit Topology Class
Class D
Total Harmonic Distortion
(THD+Noise)
4Ω: <1.0%
2Ω: <1.0%
Signal Input
Front Low-Level: 2 RCA
Front High-Level: 4-Pin Molex
Rear Low-Level: 2 RCA
Rear High-Level: 4-Pin Molex

Input Switch: 2/4 Input
(works for RCA/High-Level inputs)
Signal Output
Low-Level: 2 RCA
(Pass-Thru active with RCA or Hi-Level input)
Crossover Controls
Front High-Pass:
50 Hz - 250 Hz @ 12dB/Octave Butterworth
Front Low-Pass:
50 Hz - 250 Hz @ 12dB/Octave Butterworth
Rear High-Pass:
50 Hz - 250 Hz @ 12dB/Octave Butterworth
Rear Low-Pass:
50 Hz - 250 Hz @ 12dB/Octave Butterworth
All-Pass: Yes