IN-STORE PURCHASE ONLY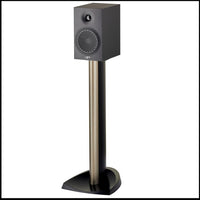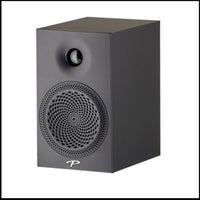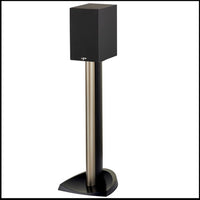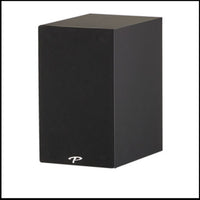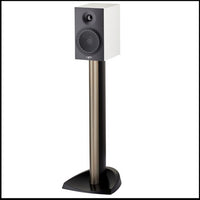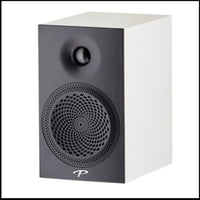 PARADIGM
PARADIGM PREMIRE 100B


Premier 100B Specifications
Design

2-driver, 2-way bass reflex bookshelf

Crossover

2nd-order electro-acoustic at 2.0 kHz (tweeter/mid)

Frequency Response
On-Axis

±2dB from 84 Hz - 22 kHz

Frequency Response
30° Off-Axis

±3dB from 84 Hz - 18 kHz

High Frequency Driver

1" (25mm) X-PAL™ dome, ferro-fluid damped / cooled, Perforated Phase-Aligning Tweeter (PPA™) Lens

Mid/Bass Frequency Driver

5-1/2" (140mm) ART™ Surround with Carbon-Infused polypropylene cone. Perforated Phase-Aligning (PPA™) Lens

Low Frequency Extension

50 Hz (DIN)

Sensitivity
Room / Anechoic

90 dB / 87 dB

Impedance

Compatible with 8 ohms

Suitable Amplifier Power Range

15 - 130 watts

Maximum Input Power

70 watts

Finishes

Satin Black, Gloss White, Espresso Grain

Weight

12.9 lbs. (5.85 kg)

Dimensions
HxWxD


11.125" × 6.625 × 9.125"
(28.2cm × 16.9 × 23.9cm)
Performance & Value
To produce a loudspeaker that meets our standards for performance and value, we took complete control of the manufacturing process, an unprecedented move at this price point. In our state-of-the-art North American facility, we have produced a loudspeaker that defies convention; a homegrown loudspeaker that benefits from innovations found throughout the Paradigm family of loudspeakers.
Partnered with the NRC
Paradigm is partnered with Canada's world-renowned NRC in ongoing research to reveal the true nature of sound and human hearing. Findings influence design and performance specs, resulting in a uniquely realistic listening experience, backed by sound science.
Patented
†
Perforated Phase-Aligning (PPA™) Tweeter and Midrange Lens Technology
Distinctive perforated lens in front of the tweeter and midrange drivers increase and smooth output without coloring the sound, while also protecting the drivers from getting damaged.
† US patent: 10,003,869.
Patented
†
Active Ridge Technology (ART™) Surrounds
Premier features Paradigm's patented Active Ridge Technology (ART) surrounds, made in-house and overmolded directly onto each woofer and midrange cone. This design achieves greater excursion, for a 3dB gain in output and 50% reduction in distortion. Crafted from injection-molded thermoplastic elastomer, ART surrounds are more durable and more reliable, ensuring a lifetime of superior sound.
† US patents: D654,479S and 8,340,340B2.
Step up to Crafted in Canada performance with the Premier Series, featuring a luxurious design that delivers state-of-the-art technology and audiophile performance at a surprising price.