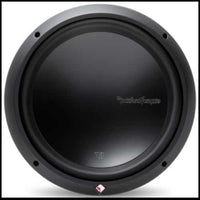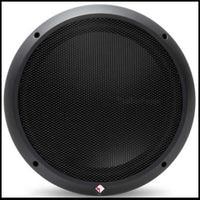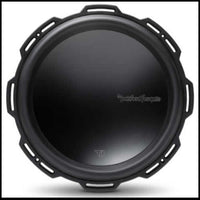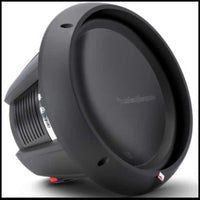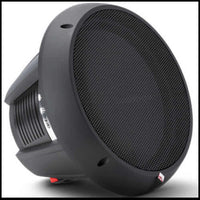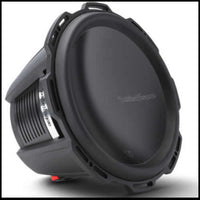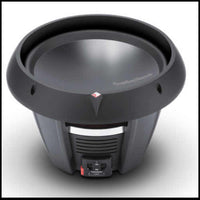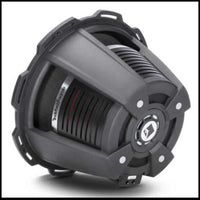 ROCKFORD FOSGATE
ROCKFORD FOSGATE Power 15" T1 4-Ohm DVC Subwoofer
Innovative technologies allow the T1D415 subwoofer to perform like a larger woofer over the previous model. The T1 15" features dual 4-Ohm voice coils, 1,000 Watts RMS power handling, and includes a grille with integral trim ring.
The Power Series T1D415 Dual 4-Ohm subwoofer builds on innovative new Rockford Fosgate technologies. These bad boys have patented VAST technology that increases surface cone area up to 25%. The new FlexFit basket not only looks the part but it provides extreme flexibility for extreme installations. Clean, high tech and ready to set off car alarms, the T1D415 is here!
Symmetrical dual progressive roll tear resistant poly-cotton spiders
Periodic-stitched fatigue resistant tinsel lead wire
Proprietary 8 AWG insulated allmetal input spring terminal connection
High-temp voice coil with spun-laced Nomex® re-inforcement collar
Optimized and matched magnetic and complicance geometry
Anodized aluminum heat sinking dust cap
Kevlar fiber reinforced paper cone
Rigid die-cast aluminum basket
Optimized pole piece and spider venting
Anodized aluminum voice coil former / copper clad aluminum wire
1 Year Warranty
CEA-2031
Power handling on Rockford Fosgate speakers conform to CEA-2031 industry standards.
Stitched Tinsel Leads
Improved reliability and performance by reducing fatigue and possible shorting.
Klippel Verified
Klippel is a speaker certification program allowing us to deliver the best possible subwoofers.
VAST Surround - Subs
The Vertical Attach Surround Technique significantly increases a subwoofer's effective radiating cone area up to 25%.
Anodized Aluminum Voice Coil Former
Rockford Fosgate subwoofers use anodized aluminum voice coil formers that provide superior heat dissipation (up to 100° at full power levels). Unlike traditional plastic substitutions, aluminum acts like a heat-sink to quickly dissipate thermal build-up on the voice coil. This keeps subwoofers cool during high SPL conditions.
FlexFit Basket - Subwoofer
The slot mounted frame pattern allows fine-tuning of the subwoofer's mounting position.
SWIFT™ Terminals
Allows the voice coils to quickly be configured in a Series or Parallel wiring configuration.
Inductive Damping Heat Sink
Secures directly to the top of magnet structure to improve system efficiency by reducing distortion.
Nominal Impedance: Dual 4-Ohm
Power Handling (Watts RMS): 1000 Watts RMS
2000 Watts Max
Magnet Weight (oz): 229 oz. (6.49 kg)
Voice Coil Diameter: 3.0" (75.5 mm)
Mounting Depth: 8.39 in. (213 mm)
Cutout Diameter: 13.9375 in. (354 mm)
Woofer Displacement: 0.191 cu. ft. (5.4 Liters)
Speaker Connector: Compression Terminal
Shipping Weight: 54.1 Lbs. (24.53 Kg.)
CEA-2031 Compliant
Voice Coil Type: Dual Voice Coil
Sealed Box Volume (Vb): 2.25 cu. ft. (63.7 Liters)
Vented Box Volume(Vb): 2.66 cu. ft. (75.3 Liters)