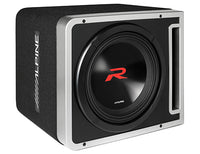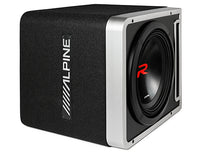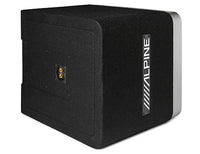 ALPINE
Alpine R2-SB12V 12-inch R-Series Halo Preloaded Subwoofer Enclosure
Next-Generation 12-inch R-Series Alpine Halo Preloaded Subwoofer Enclosure with ProLink™
ALPINE HALO DESIGN
The enclosures share the premium, unmistakable design of the Alpine Halo Family. The enclosures pull design cues from the Alpine Halo Display with unique, curved edges outlined by a silver trim and a front baffle for a matching system aesthetic. Built with sturdy, 3/4" MDF construction and covered in a premium black carpet, these enclosures give the impression of a custom look, without the custom work.
UNIQUE PROLINK™ DESIGN
Alpine's unique ProLink™ technology was designed with the sound system builder in mind. ProLink™ allows more flexibility in both power and price to start with a single subwoofer enclosure and add an additional subwoofer using a Linking Kit (sold separately) to link two enclosures together to create a dual system when more bass is desired.
DEEPER BASS OUTPUT
The enclosures come preloaded with the 2nd-Gen R-Series Subwoofers with larger, double-stacked magnets that contribute more motor force for deeper bass and tighter bass control from the subwoofer cone compared to the previous generation. An integrated Faraday ring minimizes distortion for cleaner bass output. A Kevlar-treated cone ensures durability in the subwoofer for reliable performance, even at high volumes.
INCREASED ACCURACY
The 2nd-Gen R-Series Subwoofers contain Alpine's High Amplitude Multi-Roll (HAMR) Surround Technology. This rubber surround allows the subwoofer cone to efficiently move air while staying cool, which also contributes to increased output from the subwoofers. This technology allows for 20mm of total cone excursion and motion that creates incredible accuracy from the subwoofer. 
OPTIMIZED SOUND PERFORMANCE
The ported enclosures feature an optimized vent and rounded internal port edges that maximize the output performance of the subwoofer, for deeper, reliable bass. Each enclosure is also wired for optimized performance with Alpine's R-Series R-A75M Mono Power Amplifier. 
FEATURES
Groundbreaking Alpine Halo Design
ProLink™ ported enclosure design
Polypropylene/Ceramic Composite Dust Cap
Kevlar Reinforced Pulp Cone High-Performance subwoofers
High-Amplitude Multi-Roll (H.A.M.R.) Surround
Large Double-Stacked Magnets
CARB compliant 3/4-inch MDF construction
Premium black carpet
Silver Alpine embossed side logo badge
Brushed aluminum finished metallic front baffle
Threaded Subwoofer Mounting Inserts (for reversible subwoofer orientation)
Threaded Subwoofer Mounting Inserts (for reversible subwoofer orientation)
TECH SPECS
Dimensions: 17" W x 14.625" H x 15" D"
750W RMS
2250W Peak Power Handling
Frequency Response: 24Hz-200Hz
Sensitivity (1W/1m): 85dB
Dual 4Ω Voice Coils Wired in Parallel for a 2Ω Load (Compatible with R-A75M)
Voice Coil: 65.5mm
X-Max: 20mm
Magnet Weight: 144oz
12 Gauge OFC Speaker Box Wire
CTA-2031 Compliant