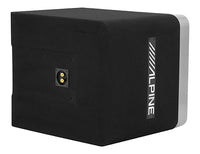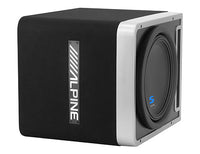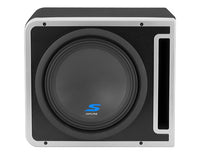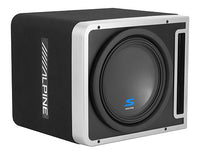 ALPINE
Alpine S-SB12V Single 12" Halo S-Series Preloaded Subwoofer Enclosure with ProLink™
Single 12" Alpine Halo S-Series Preloaded Subwoofer Enclosure with ProLink™
A subwoofer enclosure that sounds as good as it looks. Alpine's preloaded, linkable subwoofer enclosures give you powerful performance with the unique Alpine Halo design.
UNIQUE PROLINK™ DESIGN
When you're looking to make a noticeable impact in your sound system, you add a subwoofer that will bring out the low ends of your music. But what if you already have a single subwoofer and still crave more bass? You could throw out your single enclosure and purchase a new dual enclosure or you can build your bass with Alpine's new ProLink™ technology. ProLink™ is unique to Alpine and allows you to link two S-SB12V enclosures together using an optional KTX-H12 Linking Kit (sold separately) to create a dual subwoofer-enclosure. Now you have the flexibility in power and price to use a single subwoofer or add another subwoofer when more bass is desired.
STAND OUT IN THE CROWD
The Alpine Halo platform has a reputation for accessible, premium technology that modernizes the look and feel of any vehicle. Drawing inspiration from the sleek, tapered lines and clean silver finish of the Alpine Halo Display, the S-SB12V shares the same unique, curved edges outlined by a silver trim and a metallic front baffle for a matching system aesthetic. The S-SB12V will not only provide a premium sound performance, but also elevate the interior of the vehicle for a subwoofer enclosure you can be proud to show off.
OPTIMAL SOUND PERFORMANCE
Finally, a subwoofer that sounds as good as it looks. The S-SB12V delivers a premium sound experience to bring out the low end of your music. The ported enclosure design features an optimized vent and rounded internal port edges that maximize the output performance of the subwoofer. The result is a higher total sound output for deep, powerful bass, reliable sound reproduction, and overall great sound quality.
BUILT TO PERFORM
When it came to construction, Alpine didn't cut corners. The S-SB12V is built from premium construction materials so you can get the custom look without the custom work. Made from 3/4-inch medium density fiberboard (MDF) with internal edge bracing, the S-SB12V is sturdy with a rugged, yet stylish black carpet cover and brushed aluminum finish on the metallic front baffle. A sliver Alpine logo is embossed on the side of the enclosure for a tasteful finish to a unique subwoofer enclosure. 
TUNED FOR S-SERIES
The S-SB12V includes a preloaded S-Series S-W12D4 12-inch subwoofer that's tuned to 35Hz for optimized performance with Alpine S-Series sound system line. Dual 4Ω voice coils are wired in parallel for a 2Ω load that's compatible with the S-Series S-A60M Mono Power Amplifier. Gold-plated binding post terminals allow for speaker wire, ring terminal, or quick disconnect banana plug connection from your amplifier's output.
FEATURES
Groundbreaking Alpine Halo Design
ProLink™ ported enclosure design
Polypropylene/Ceramic Composite Dust Cap
Kevlar Reinforced Pulp Cone High-Performance subwoofers
High-Amplitude Multi-Roll (H.A.M.R.) Surround
Large Double-Stacked Magnets
CARB compliant 3/4-inch MDF construction
Premium black carpet
Silver Alpine embossed side logo badge
Brushed aluminum finished metallic front baffle
Threaded Subwoofer Mounting Inserts (for reversible subwoofer orientation)
Threaded Subwoofer Mounting Inserts (for reversible subwoofer orientation)
TECH SPECS
Dimensions: 17" W x 14.625" H x 15" D"
750W RMS
2250W Peak Power Handling
Frequency Response: 24Hz-200Hz
Sensitivity (1W/1m): 85dB
Dual 4Ω Voice Coils Wired in Parallel for a 2Ω Load (Compatible with R-A75M)
Voice Coil: 65.5mm
X-Max: 20mm
Magnet Weight: 144oz
12 Gauge OFC Speaker Box Wire
CTA-2031 Compliant