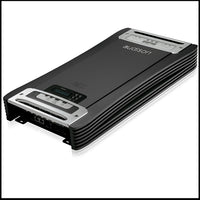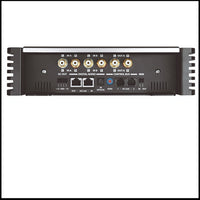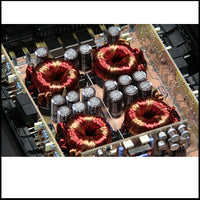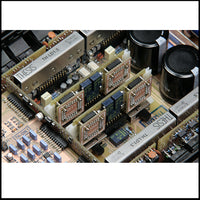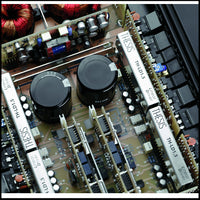 AUDISON
AUDISON TH uno THESIS
Thesis amplifiers are born with the know-how and experience achieved with the HV venti, improved by the innovation of digital technology. The result is a perfect combination between the highest level of analog technology and the advanced features of the digital technology in one unique product. The precious synergy with Full DA HD technology takes the in-car listening experience to a new level of excellence; the synthesis of a unique know-how employed in mobile audio reproduction.
TH uno is a single channel (mono) amplifier used to achieve maximum performance under any load; capable of delivering up to 2300 W into 1 Ohm and 200 W in the audiophile A Class mode. Specifically designed to drive systems and subwoofers with self-assured mastery.
Load Imp.
Mono
Dual Power – Hi-Current
4 Ohm
850 W x 1
2 Ohm
1500 W x 1
1 Ohm
2300 W x 1
Dual Power – A Class
4 Ohm
200 W x 1
Amp Chain
4 Ohm (2 Amp)
3000 W x 1
2 Ohm (2 Amp)

4500 W x 1

 

 
FULL DA HD
Pure digital signal transfer with a resolution up to 24 bit / 96 kHz
DIGITAL INPUTS AND OUTPUTS
Innovation is at the heart of the state-of-the-art digital decoding section. The S/PDIF optical input allows direct connection to digital sources with the ability to re-launch the digital signal to other Thesis amplifiers through the AD Link (Audison DigitalLink) system. Each amplifier features 192 kHz/24 bit PCM D/A conversion through a very high quality converter.
BIAS CONTROL
Provides the selection of four possible presets: Energy Saving, Hi-Current, Hi-AB Class and full A Class operation.
REMOVABLE CROSSOVER
Inherited from the HV venti and making the most of TH's extreme versatility, the complete crossover circuit of the TH amplifier is removable; a high-end sound quality solution.
DUAL MONO CONSTRUCTION
Four Synchro-PWM power supplies allow for a very fast transient current response and to create a Dual Mono configuration.