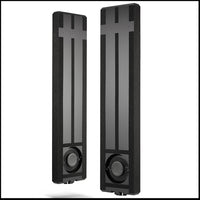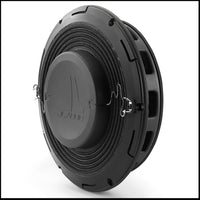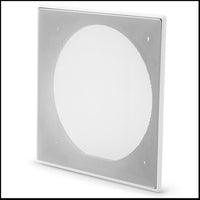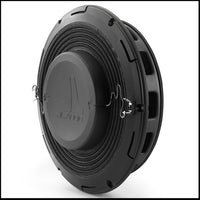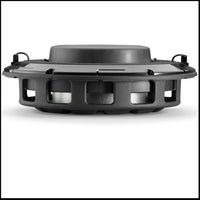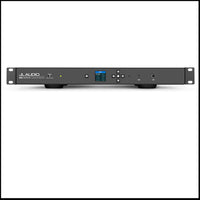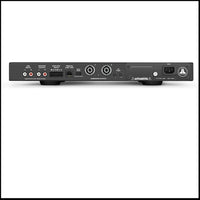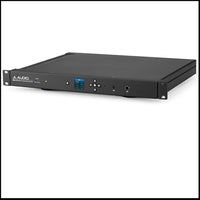 JL AUDIO
JL AUDIO Fathom® IWS-SYS-208: Dual 8-inch (200 mm) In-Wall Powered Subwoofer System
AVAILABILITY :
In Store Pick Up Only
Fathom® IWS-SYS-208
In-Wall Subwoofer System with Dual 8-inch Subwoofer Driver, 600 watts
Born from the same groundbreaking technologies used to develop our free-standing powered subwoofers, the Fathom® IWS in-wall subwoofer systems deliver remarkable bass performance, while remaining largely concealed within most home audio/theater environments.
The 8-inch Fathom® IWS systems are smaller and easier to integrate than our larger in-wall Fathoms, fitting in all standard, 16-inch, on-center stud openings, and operating through very small grilles. These grilles accommodate all common drywall thicknesses, and can be easily painted to match the wall.
The subwoofer enclosures utilize extensive architectural features aimed at improving rigidity while keeping a very low profile and minimal wall thickness. A unique port design vents through a slot located at the perimeter of the driver mount to enhance efficiency and low-bass output. Inside the enclosure is a long-excursion, 8-inch thin-line woofer, built to exacting standards by JL Audio for the Fathom® IWS products.
Each 8-inch Fathom® IWS system is powered by a rack-mountable amplifier, capable of generating up to 600 watts of clean power and can drive up to two enclosures. A complete set of Fathom® signal processing features is also onboard, including our powerful, 18-band Digital Automatic Room Optimization (D.A.R.O.) system, all managed via an easy-to-use, menu-driven interface and LCD display. Note: D.A.R.O. functionality requires optional calibration microphone (sold separately).
The IWS-108 System fits 2" x 4" wall studs or larger. Consult your Authorized JL Audio Dealer for specific application information.
Enclosure Finish: Flat Black (hidden from view when installed)
Grille finish: Primer White (paintable)
Enclosure Construction: CNC-Cut Birch Plywood
| | |
| --- | --- |
| Enclosure Type | Ported |
| Enclosure Finish | Black Texture-Coated |
| Frequency Response (Anechoic) | 30 Hz - 112 Hz (± 1.5 dB) -3dB at 28 Hz / 126 Hz -10dB at 24 Hz / 152 Hz |
| Effective Piston Area (Sd) | 63.24 sq in / 0.0408 sq m |
| Effective Displacement | 95.0 cu in / 1.56 L |
| Amplifier Power | 600 W RMS short-term |
| Power Mode(s) | Off, On or Automatic (Signal-Sensing or 12V Trigger) |
| 12V Trigger Output Capacity | 150 mA (1/8-inch/3.5mm mini jack) |
| Light Modes | N/A |
| | |
| --- | --- |
| Unbalanced Inputs | Stereo or Mono (two RCA jacks - Input Impedance of 50k Ohms) |
| Speaker/High-Level Inputs | Stereo or Mono (removable plug - Input Impedance of 4.4k Ohms) |
| Input Grounding | Isolated or Grounded |
| Level Control | Reference (fixed gain) or Variable from -50dB to +15dB over reference gain (0.5 dB increments) |
| Filter Mode(s) | Low-Pass, with tracking High-Pass Outputs |
| Filter Slope(s) | 12/24 dB/octave |
| Filter Frequency Range | 30 Hz - 130.1 Hz |
| Filter Defeat Function | Yes |
| Polarity | 0 or 180 degrees |
| Delay (Phase) | Variable from 0 – 25 ms 
(0.1 ms increments, Sub and HP outputs) |
| Extreme Low Frequency (E.L.F.) Trim | Variable, -12 dB to +3 dB at 25 Hz (0.5 dB increments) |
| Line Outputs | Stereo or Mono (two RCA jacks - Pass-Through or High-Pass) |
| Subwoofer Outputs | Neutrik speakOn® 2-Pole Connectors
(uses Neutrik part: NL2FX) |
| Calibration Mode | Digital Automatic Room Optimization (D.A.R.O.), requires microphone (sold separately) |
| | |
| --- | --- |
| Wall Cavity Width (W) | Minimum: 14.375 in / 365 mm Maximum: 15.500 in / 394 mm |
| Wall Cavity Height (H) | Minimum: 75 in / 1,905 mm |
| Width (W) | 14 in / 355 mm |
| Height (H) | 61.26 in / 1,565 mm |
| Depth (D) | 3.25 in / 83 mm |
Note:
Enclosure dimensions do not include L-brackets or vibration-dampening padding.
| | |
| --- | --- |
| Width (W) | 17.4 in / 442 mm |
| Height (H) | 3.5 in / 89 mm |
| Depth (D) | 17.9 in / 455 mm |
| Net Weight | 13 lb / 5.9 kg |
Note:
Amplifier Height Dimensions do not include feet.
| | |
| --- | --- |
| Grille Height (H) | 10.50 in / 267 mm |
| Wallboard Thickness Compatibility | 0.5 in to 1.75 in / 13 mm to 44 mm |
| Grille Width (W) | 10.50 in / 267 mm |
| Wall Opening Height (H) | 9.75 in / 258 mm |
| Wall Opening Width (W) | 9.75 in / 258 mm |
Dynamic Motor Analysis - DMA Optimized Motor
Summary:
JL Audio's proprietary Dynamic Motor Analysis system is a powerful suite of FEA-based modeling systems, first developed by JL Audio in 1997 and refined over the years to scientifically address the issue of speaker motor linearity. This leads to vastly reduced distortion and faithfully reproduced transients... or put simply: tight, clean, articulate bass.
Detailed Information:
Since 1997, JL Audio has been at the forefront of Finite Element Analysis-based modeling of loudspeaker motors and suspensions. This research is aimed at decoding what we refer to as the "Loudspeaker Genome"... a project aimed at understanding the true behavior of loudspeakers under power and in motion. A major component of this integrated system is DMA (Dynamic Motor Analysis). Starting with the 15W3 and the W7 Subwoofers in the late 1990's and early 2000's, DMA has played an important role in the design of all JL Audio woofers sold today, including our component woofers.
DMA is a Finite Element Analysis (FEA)-based system, meaning that it takes a large, complex problem, breaks it down into small solution elements for analysis and then assembles the data to form an accurate, "big-picture" solution. DMA's breakthrough is that it actually considers the effects of power through the coil as well as coil/cone position within the framework of a time-domain analysis. This gives us a highly accurate model of a speaker's actual behavior under real power, something that the traditional Thiele-Small models or other low power measurements cannot do. Because DMA does not rely on a steady-state model, it is able to consider shifts in the circuit elements being analyzed. These modeling routines are intense, requiring hours to run for a whole speaker.
DMA is able to analyze the real effects of fluctuating power and excursion upon the magnetic circuit of the motor, specifically the dynamic variations of the "fixed" magnetic field. This delivers intensely valuable information compared to traditional modeling, which assumes that the "fixed" field produced in the air gap by the magnet and the motor plates is unchanging. DMA not only shows that this "fixed" field changes in reaction to the magnetic field created by current flowing through the voice coil, but it helps our engineers arrive at motor solutions that minimize this instability. Analyzing this behavior is critical to understanding the distortion mechanisms of a speaker motor and sheds light on the aspects of motor design that determine truly linear behavior:
Linear motor force over the speaker's operational excursion range
Consistent motor force with both positive and negative current through the coil
Consistent motor force at varying applied power levels
 
Our ability to fully analyze these aspects of motor behavior allows our transducer engineers to make critical adjustments to motor designs that result in extremely linear, highly stable dynamic loudspeaker motor systems.
The payoff is reduced distortion, improved transient performance and stellar sound quality.
Floating Cone Attach Method - FCAM™ (U.S. Patent #6,501,844)
Summary:
This assembly technique, conceived by JL Audio, ensures proper surround geometry in the assembled speaker for better excursion control and dynamic voice coil alignment.
Detailed Information:
JL Audio's patented FCAM™ technology is an innovative method of bonding the surround/cone assembly to the voice coil former/spider assembly. This feature helps ensure concentricity of the surround, spider and voice coil without torquing the suspension to achieve it. This allows for the inevitable, slight variations in production part dimensions without having them negatively impact the integrity of the suspension and coil-centering at high excursions.
Concentric Tube Suspension
Summary:
Our Concentric Tube Suspension™ technology delivers unprecedented excursion in a low-profile woofer.
Detailed Information:
The biggest challenge in any low-profile woofer design is to create enough mechanical clearance for the speaker to generate enough excursion to meet its output and low-frequency extension goals. Since these goals were very ambitious in the development of JL Audio's low profile woofers, achieving them required development of a new suspension architecture.
JL Audio's solution employs a molded structure which spans over the edge of the motor system, supporting the spider on the outside of the motor's boundaries and the large diameter voice coil on the inside. The large diameter voice coil permits the magnet to sit inside it, rather than surrounding the coil as is typical in most woofers.
The concentric tube structure and the elimination of a conventional top-plate helps us place the motor system higher up into the cone body's space to further compress depth, while still permitting excellent mechanical excursion.
High-Damping Feedback Circuitry (U.S. Patent #6,441,685)
Summary:
This proprietary, discrete control circuit design allows our Class D switching amplifiers to maintin an excellent damping factor for improved transient behavior and fidelity.
Detailed Information:
While Class D amplifiers are well known for outstanding efficiency, they have also been known for less than spectacular sound quality due to weak damping of the driven load and poor power regulation. These factors are critical to subwoofer fidelity as they relate directly to the amplifier's ability to control the motion of the speakers.
JL Audio's Patented Class D output circuit utilizes a discrete control section and a unique feedback loop design that results in outstanding power regulation with a damping factor that's vastly higher than other Class D designs and also higher than most Class A/B amplifiers. The benefit of this exclusive JL Audio technology is tight, clean bass reproduction with the efficiency advantage of Class D.
It is a package tailor-made for world-class bass performance.
Built in U.S.A. with Global Components
Summary:
JL Audio's Miramar, Florida loudspeaker production facility is one of the most advanced in the world.
Detailed Information:
At a time when most audio products are built overseas, JL Audio's commitment to in-house loudspeaker production continues to grow. To pull this off in a competitive world market, our production engineering team has created one of the world's most advanced loudspeaker assembly facilities and established a global network of quality component suppliers who build to our specifications. This, combined with our commitment to state-of-the-art assembly technology, allows our skilled workforce to efficiently build JL Audio products to extremely high quality standards, right here in the U.S.A.
Since most of our premium loudspeakers incorporate proprietary, patented technologies requiring specific assembly techniques, we find it is vital that the people who designed them have close access to the people manufacturing them. The following JL Audio products are built in our Miramar, Florida factory, with global components:
Subwoofer Drivers: W7, W6v3, TW5v2, TW3, TW1, W3v3

 

Enclosed Car Subwoofers: Stealthbox®, PowerWedge™, ProWedge™, H.O. Wedge™ & MicroSub™ Enclosed Subwoofers
Marine Loudspeakers, Marine Subwoofer Drivers and Marine Enclosed Loudspeakers
Home Subwoofers: Dominion™, E-Sub, Fathom® and Gotham®

 
Find the answers to many common questions:
*********************************
U.S.A. Warranty Information - Home Audio Powered Subwoofer Systems

JL Audio Home Audio Powered Subwoofer Systems are warrantied against defects in materials and workmanship for Three (3) Years from purchase date. JL Audio will, at its discretion, repair or replace any products that exhibit defects in materials and/or workmanship during the warranty period.

Please hold on to your sales receipt! All warranty service requires original sales receipt documentation. The warranty only applies to the original purchaser from an authorized retailer. 
Note: Products purchased from unauthorized dealers are not covered under warranty.


Warranty Limitations

The following is not covered under JL Audio's warranty program:
1. Product with defaced, altered or removed serial numbers (no valid, legible serial number = no warranty).
2. Product owned by anyone other than the original purchaser from an authorized JL Audio dealer. (The warranty is not transferable and will not apply to products purchased from unauthorized dealers.)
3. Product that has been physically abused (run over by a car or beat with a hammer, for example).
4. Product that has not been installed according to the instructions in the owner's manual
5. Product in which repair and/or modification has been attempted by unauthorized parties
6. Product damaged cosmetically due to improper handling or normal wear and tear
7. Product damaged in an accident, due to criminal activity (attempted theft, gunshot damage, etc.) or by 'acts of God' (flooding, lightning, locusts, etc.)
8. Custom finishes or other cosmetic treatments applied to products. (JL Audio will not be responsible for restoring or maintaining any custom finishes)
9. Installation and shipping costs associated with removing, re-installing or shipping the product to JL Audio for warranty service
Ask your dealer for details on warranty limitations.


If you need Service on your JL Audio Product:
All warranty returns should be sent to JL AUDIO freight prepaid through an authorized JL AUDIO dealer and must be accompanied by proof of purchase (a copy of the original sales receipt.) Direct returns from consumers or non-authorized dealers will be refused unless specifically authorized by JL AUDIO with a valid return authorization number. Warranty expiration on products returned without proof of purchase will be determined from the manufacturing date code. Coverage may be invalidated as this date is previous to purchase date. Return only defective components. Non-defective items received will be returned freight-collect. Customer is responsible for shipping charges and insurance in sending the product to JL AUDIO. Freight damage on returns is not covered under warranty. Always include proof of purchase (sales receipt).